WBA TTT Workshop Postponed
The Workplace-based Assessment Train-the-Trainers (WBA TTT) Workshop was supposed to be held on Saturday 2nd September 2023 at the HKAM Building but it had to be postponed due to the typhoon. 35 lunch boxes were ordered which is non-refundable but every cloud has a silver lining. Thanks to College's staff for the warm-hearted thought and their initiative, the lunch boxes were donated to Caritas Elderly Centre – Aberdeen (明愛香港仔長者中心) in the name of the Hong Kong College of Anaesthesiologists.
Participants and instructors will be informed of the details of the rescheduled workshop.
Annual General Meeting (AGM)
The AGM was held on 15th August 2023. At the AGM, the President presented the report of the Council and the Honorary Treasurer presented the report of the auditor. The subscription fees for 2024 remain unchanged.

The 2023-2025 Council took office immediately after the AGM. The College express their gratitude to the following outgoing Councillors and welcome the new councillors.
Outgoing Councillors:
Dr Chan, King Chung Kenny
Dr Chen, Phoon Ping
Professor CHEUNG, Chi Wai
Dr CHOW, Yu Fat
Dr Khu, Kin Fai
Dr Low, John
Incoming Councillors:
Dr Lau, Vivian Nga Man
Dr Lui, Frances
Dr Wong, Ho Shan Steven
Dr Wong, Sau Ching Stanley
Dr HY So, the President, presented a souvenir to Dr John Low who attended the AGM.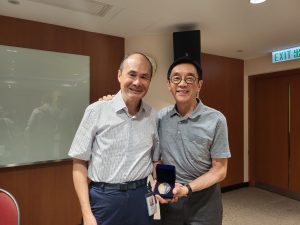 Annual Scientific Meeting in Anaesthesiology 2023

The Annual Scientific Meeting in Anaesthesiology 2023 (ASM 2023) will be held on 18th – 19th November 2023 at the Hong Kong Convention and Exhibition Centre.  The theme this year is "A New Leaf" signifying turning over a new leaf in this post-COVID era, celebrating our ASM finally having a fully physical meeting after a 4-year hiatus, embracing new advances in anaesthesiology and medicine as well as emphasising green themes of wellness, sustainability and positivity. Exhibition will be held concurrently to showcase new products and services in our field during the meeting.
The organising committee has invited esteemed keynote speakers including Professor Gregory Hammer, Dean Davy Cheng and Professor Philip Peng, who will definitely enrich our scientific program. There is also a series of interactive and wellness workshops arranged.  The Scientific Committee of ASM 2023 welcomes the abstract submission for oral presentation at the meeting.  Please visit the meeting website www.anaesthesiology.hk to submit abstracts and register NOW! 
Important Dates:
Deadline for Abstract Submission: 18th September 2023
Deadline for Early-Bird Registration: 18th October 2023
CME/ CPD/ CNE points will be applied for local participants.
More programme information will be announced soon. For enquiry, please contact the ASM 2023 Meeting Secretariat at (852) 2559 9973 or via email to asmhk@icc.com.hk .
British Journal of Anaesthesia (BJA)
In 2016, the College signed the first agreement with BJA which signified the start of the collaboration with BJA. The collaboration included having BJA as the College's official journal and granting HKCA fellows access right to electronic BJA. The second agreement was renewed and this 5-year agreement will be effective from 1st January 2024. In the new agreement, there is a substantial reduction in annual subscription which is from £50 to £30 per fellow and it outlines the areas that the both organisations might work together.
Young Fellows Committee (YFC) Updates
The YFC organised a visit to Crossroads for a day of volunteer work and simulation experience on 29th July 2023. Some of them helped sort and check donated medical equipment and monitors, while others did some heavy lifting. The story of how Crossroads grew as an organisation was very inspiring and the YFC hope to do more similar activities together in the future. More photos can be found on YFC's Facebook page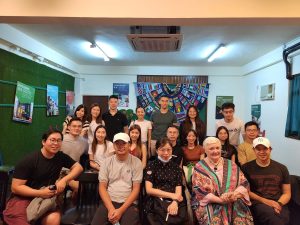 International Academy of Colleges of Anaesthesiologists
Join the International Academy of Colleges of Anaesthesiologists (IACA) for a webinar featuring a distinguished panel of global experts alongside compelling patient stories. Gain insights from renowned safety and quality representatives of the IACA partner colleges, including Professor Terry Tan (College of Anaesthesiologists of Ireland), Dr Jenny Westaway (RCoA Patient Voices), Mr Tibbs Pereira (founder member of Patients for Patient Safety Ireland), Assoc Prof Jo Sutherland (Chair of the ANZCA Safety and Quality Committee), Dr Brian McCloskey (College of Anaesthesiologists of Ireland), Dr Tsun-woon Lee (Hong Kong College of Anaesthesiologists) and Ms Helen Maxwell-Wright (member of Safety and Quality Committee of ANZCA). Secure your free registration today.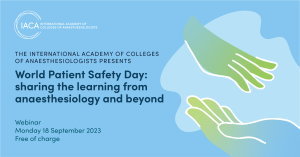 Date: Monday 18th September 2023
Time: 17:00 – 18:30 (HK time)
CME points: 1.5 (passive)
Please click here for further details of the webinar.
HKCA is one of the founding Colleges of the IACA. If you want to find more information about IACA, please click here.