ASM 2021– Message from the Chairman of Organising Committee
I have been enjoying most ASMs as a participant since the early years of my training. It is my great honour to be invited to organise the Annual Scientific Meeting (ASM) 2021 almost a year ago. The planning of this year's ASM is full of challenges. This is not only because of numerous administrative work, but also the requirement for meticulous preparation and technical support for the unprecedented hybrid format. May I express my sincere gratitude to the dedication of my fellow organising committee members, working partners from the College, SAHK and ICC. The Meeting could not have been possible without their commitment and contribution.
The theme this year is Overcoming the Risks as we believe risk has different meanings to each of us in various settings. For instance, risks to our patients, risks to ourselves as clinicians, or even risks to our medical system, especially during the COVID pandemic on top of the pre-existing "surgical pandemic". We have also incorporated hot topics in our symposia to keep up with the latest trend in the medical field, such as artificial intelligence, big data, and well-being in workplace. The first ever EEG workshop and Echo workshop are popular too.
While most meetings have been going virtual, we still manage to maintain the traditional way of how we come together at the ASM. As we all know, face to face encounters have become precious these days. I am sure delegates who attended the Meeting physically would find it comforting to mingle with their old friends as well as to visit the exhibition by our partners from the healthcare industry after three years of waiting.
This year's ASM has left me with some of the best memories and experience, and I made many new friends from different hospitals too. Although there were moments of stress in this journey, there were always helping hands around. While we may have more still to endure, better days will return. For now, I want to send my thanks and warmest good wishes to you all in this festive season. I sincerely hope that we will all meet again in next year's meeting.
Dr Sebastian Chan
Chairman of Organising Committee, ASM 2021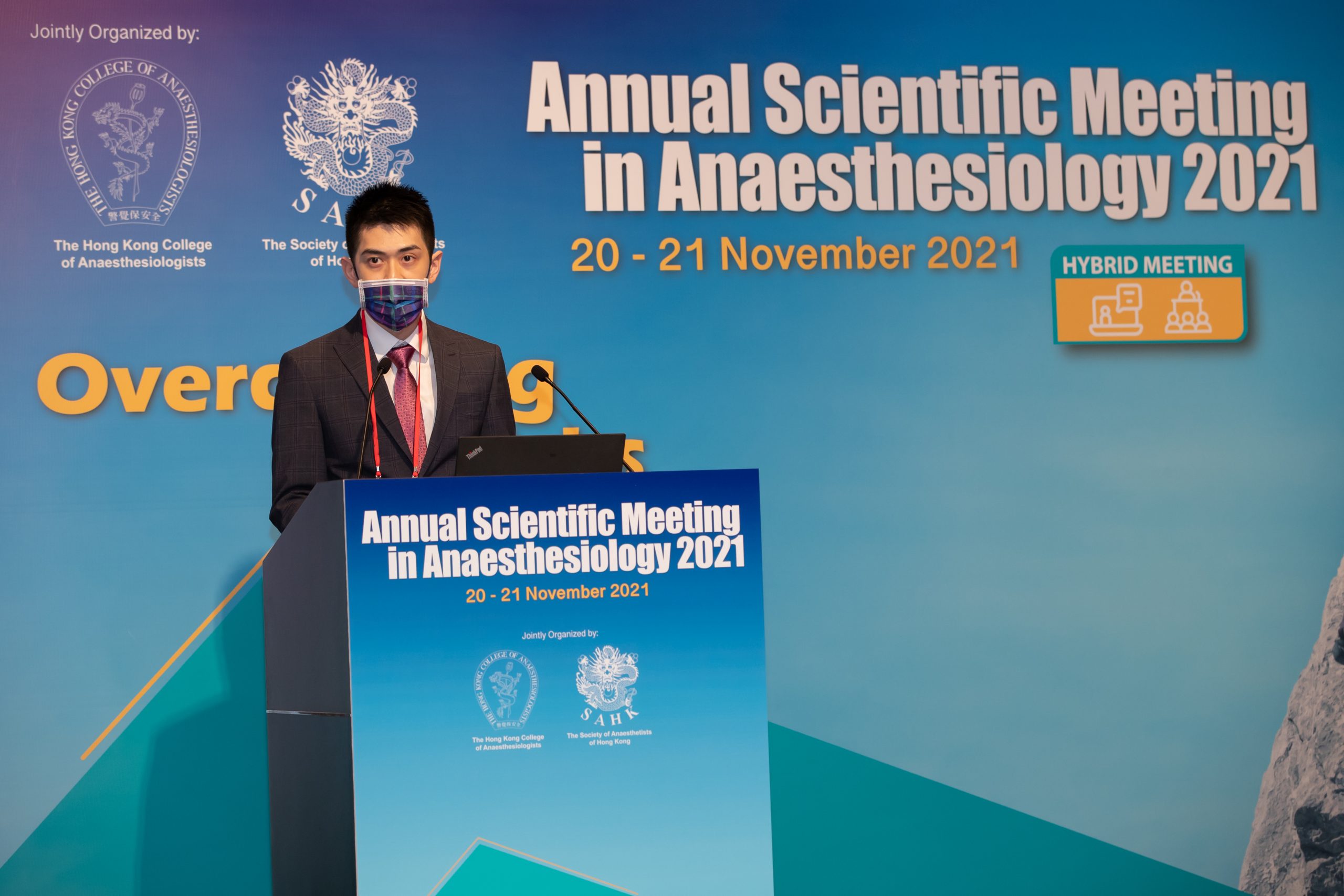 For more photos of the ASM, please visit the Photo Gallery in Members Area.


HKCA Congregation
The 34th Congregation was held on 20th November 2021. Dr Hing-yu So, the President of the HKCA, delivered an inspiring opening address, which can be found on College's website, at the congregation. Congregation is one of the biggest and joyful events of the College.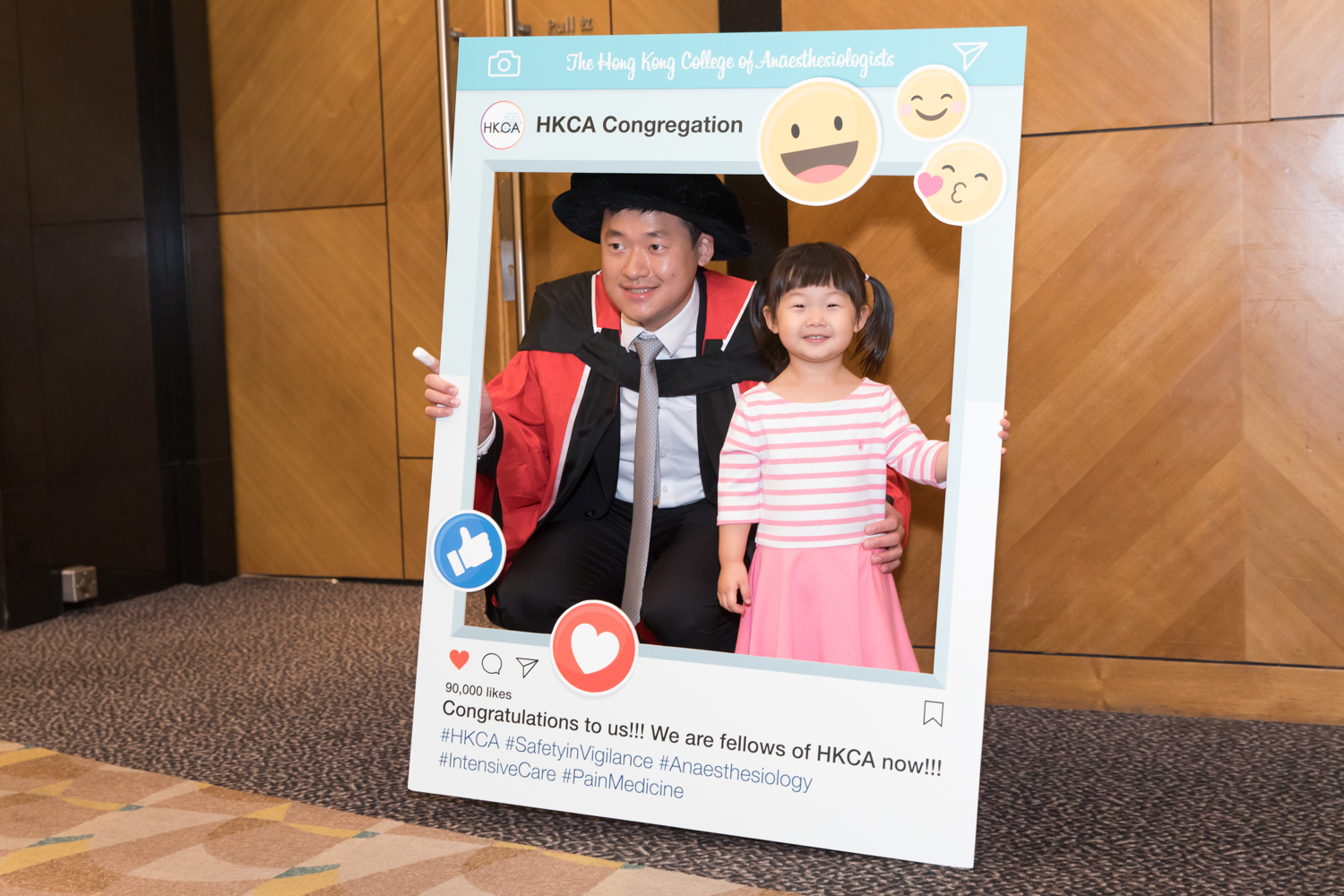 For more delightful photos, please visit the Photo Gallery in Members Area.


After repeated postponement, the SOT Retreat was successfully held on 5th December 2021. It was a great opportunity to physically meet all the SOTs, Deputy SOTs and those who have been heavily involved in the College's training, to have meaningful conversations, and to learn about well-being and positive psychology. This is just the start. A lot of crucial topics were discussed which brought us ideas to further hash out and plan for the future. As we work towards building a community of practice to further enhance Anaesthesia training in Hong Kong, the communication channels will be kept open. The Board and all the SOTs will work towards a positive and meaningful culture of learning and training in anaesthesia.
The College greatly appreciates the organising team's effort on bringing such inspiring topics, time and participation of all SOTs and Deputy SOTs.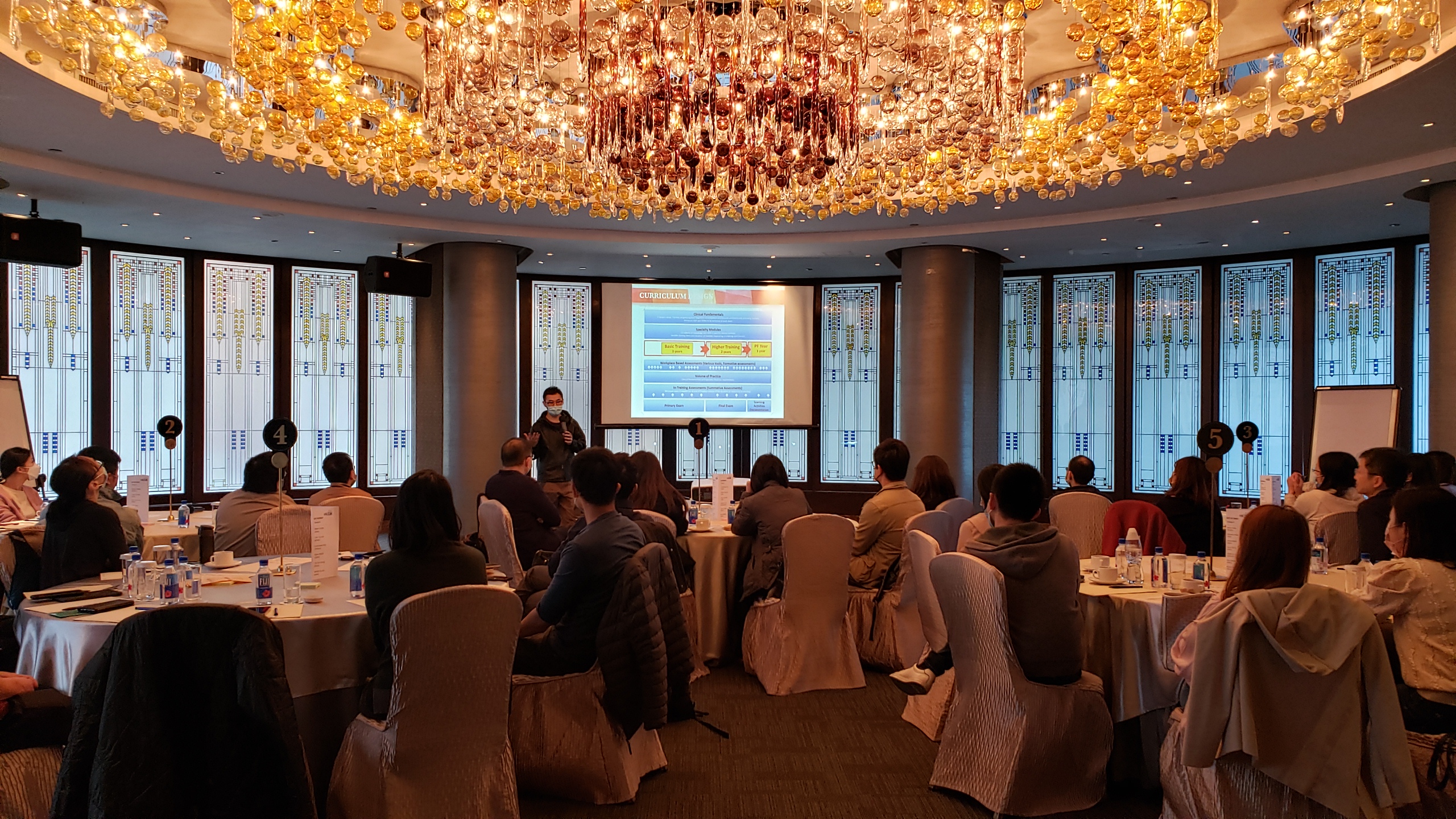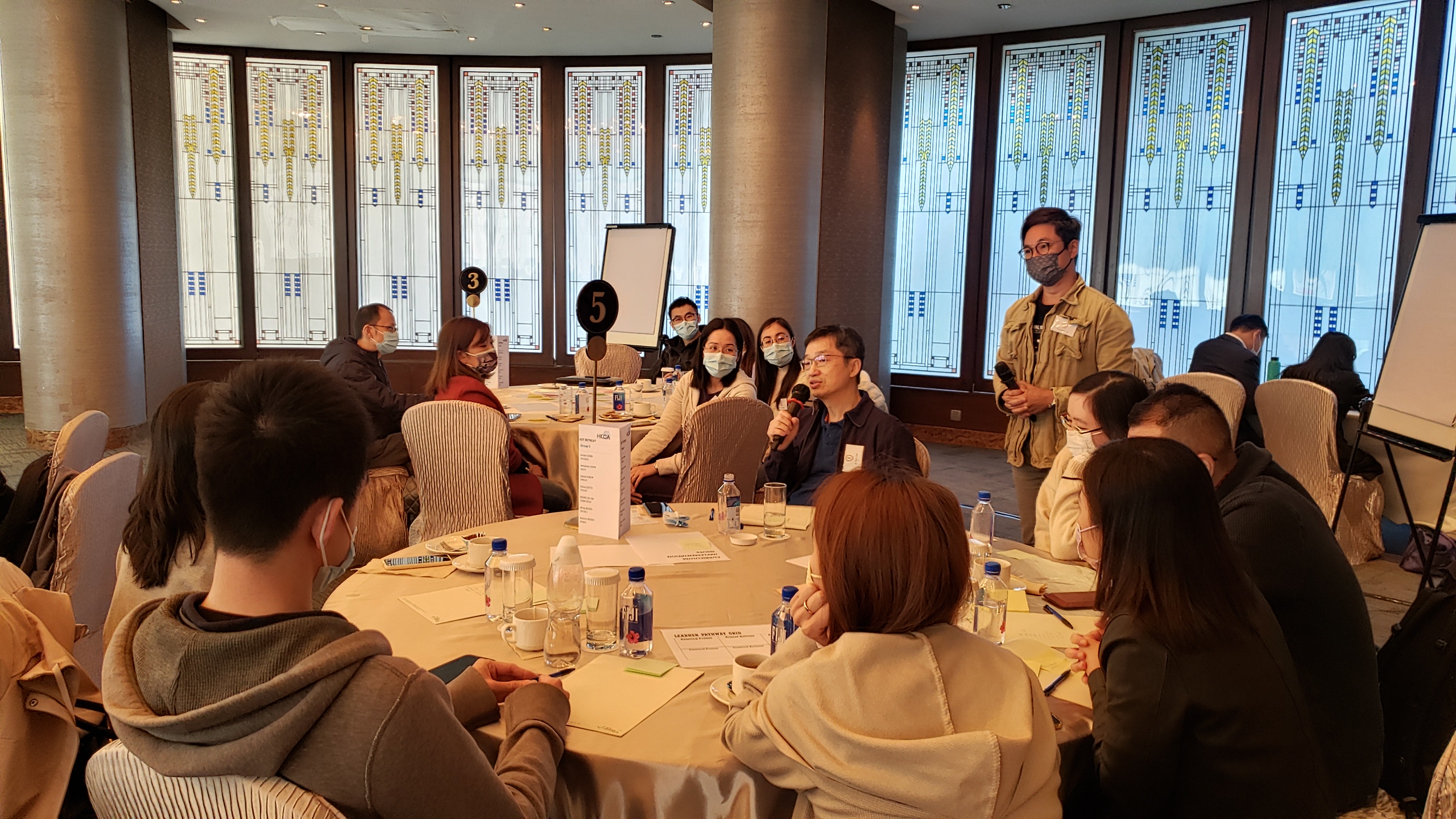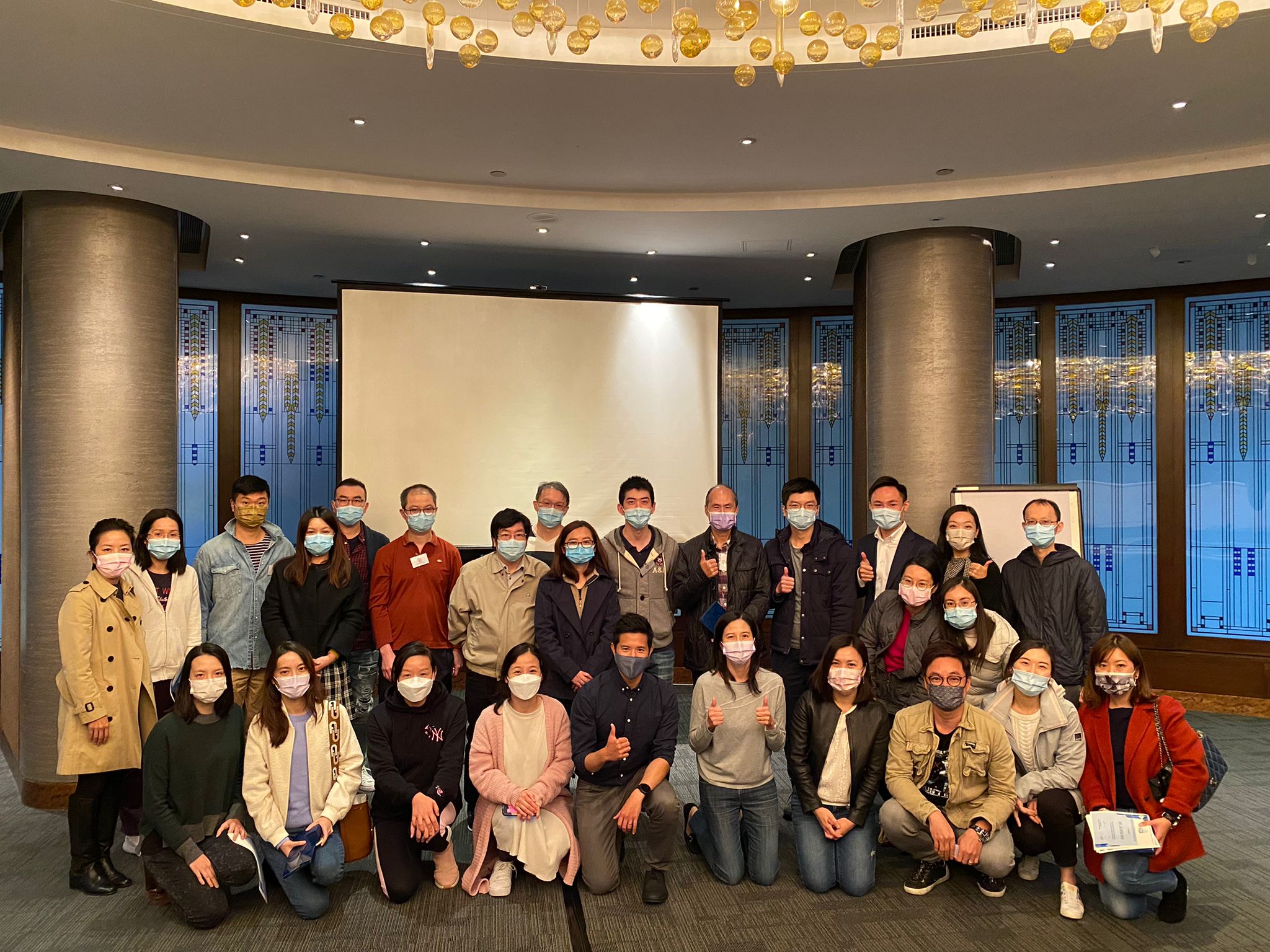 IACA Webinar
The Wellbeing Webinar – Putting Doctor's Health and Wellbeing into Practice organised by the International Academy of Colleges of Anaesthesiologists (IACA) was held on 8th December 2021. During this 90 minute session chaired by Dr So Hing Yu, Dr Vivian Lau together with a panel of 4 other anaesthetists across different time-zones were joined by around 200 live participants from around the globe in a conversation about the wellbeing of doctors.
A recent American study has shown that despite scoring higher in 'resilience' than the general employed population, physicians were at a high risk of burnout. A local survey has found that around 1 in 4 anaesthetists in Hong Kong are at moderate to high risk of depression and anxiety using the Kessler psychological distress scale.
During the panel discussion, members pointed out that maintaining wellbeing should not be the sole responsibility of the doctor, but should be a shared responsibility between the doctor and the institution. As doctors, we need to carefully manage our emotional bank account, deposit positive feelings and experiences in it, and be aware of overdraft when stress, conflicts or negative experiences at work makes us draw from this account. Seek help when our account balance is not healthy. The institution can tackle burnout by appointing authentic leaders that listens to staff, and are committed to protecting and developing staff. Doctors could derive more positivity at work if they could dedicate a proportion of their time in the aspect of work that they find most meaningful and enjoyable doing. The Welfare Workgroup of HKCA will work towards a positive culture and environment in the well-being of its members and fellows.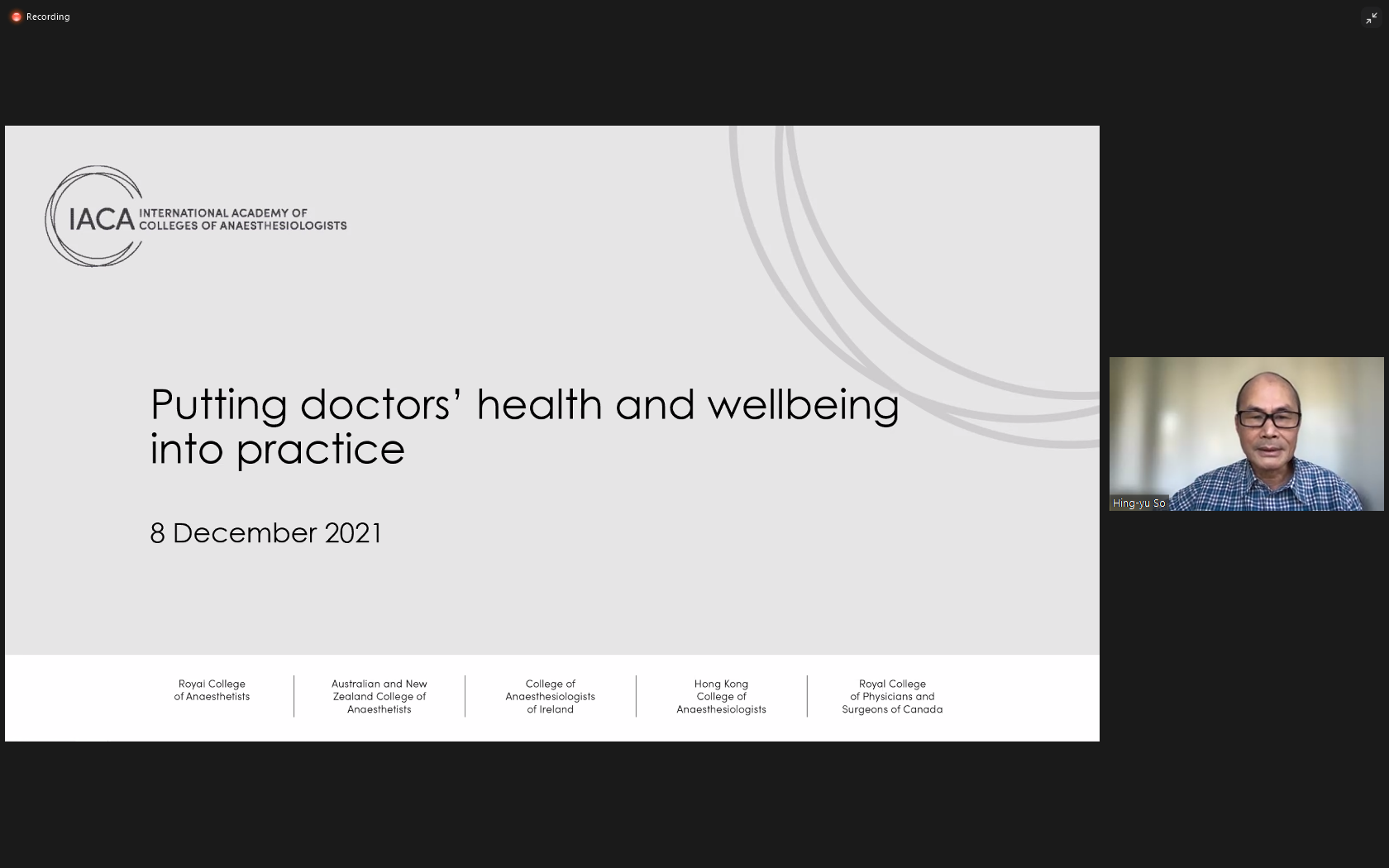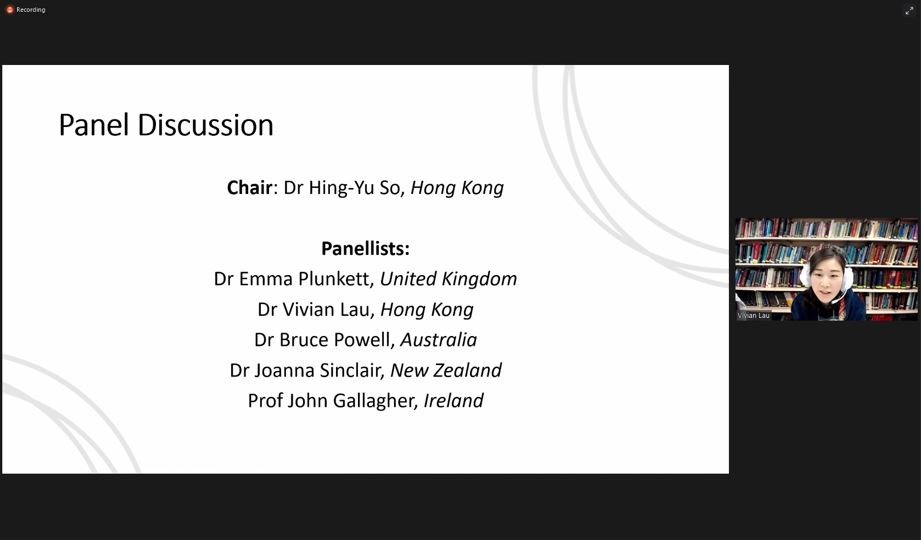 A Tribute to Dr Jean Horton (1924-2021)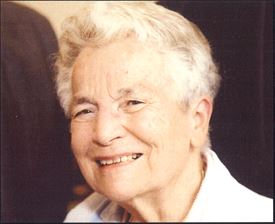 Dr Jean Horton was born 28th of October 1924, in Weymouth, Dorset, U.K. Her father was a prominent surgeon and her mother a nurse from the British army. When she was nine years old, she attended boarding school, Queenswood, Hertfordshire, U.K.

Medical connections
Dr Horton's father, and grandfather had both qualified at University College, London (UCL) and although Dr Horton had received an offer to study Medicine at Cambridge University, she chose to study at UCL. Bombing during the war had destroyed many buildings in London, and so teaching at UCL had been relocated to near Leatherhead, Surrey, UK. Her grandfather used to prepare sterile surgical drapes for Lord Joseph Lister, the pioneer of aseptic technique.
Places of work
Dr Horton worked in many famous hospitals – The West London Hospital; Leicester General Hospital, Papworth and Addenbrookes Hospital, Cambridge (best transplant centre); East Grinstead (best centre for plastic surgery); Hospital for Sick Children, Great Ormond Street, London (best paediatric hospital); The Western General Hospital, Edinburgh (best neurosurgical centre outside of USA.); Lagos University Teaching Hospital, Nigeria (the first Medical School in independent Africa); as well as the Prince of Wales Hospital, Shatin.
Pioneer
During her involvement with neurosurgical and thoracic surgical patients in Cambridge, Dr Horton realised the inefficiency of ventilating post-operative patients who were randomly located around the hospital. She proposed the concentration of these patients into one centralised ward, known by the colour of the walls, as "the blue room". This policy was incorporated in the new Addenbrookes hospital, and centralised ventilatory care now one of the bedrocks of modern Intensive Care Units.
Following her move to Edinburgh, she pioneered neuroanaesthesia with Dr Norman Dott, neurosurgeon (who was taught by Dr Harvey Cushing, the neurosurgeon who described the pituitary adenoma). She was a founding member of Neuroanaesthesia society of Great Britain and Ireland – and she was a pioneer in the widespread use of hyperosmotic solutions (hypertonic saline, then mannitol) to reduce cerebral oedema; as well as the elective ventilation of neurosurgical patients.
It was during her work with Dr Hale Enderby, at East Grindstead hospital, that Dr Horton pioneered and described the use of deliberate hypotensive techniques during anaesthesia; later in Cambridge, Dr Horton was the first to describe the use of intravenous sodium nitroprusside (SNP), which the pharmacy specially prepared for her to use.
Following her enormous experience in neuroanaesthesia in the sitting position, Dr Horton was an early proponent of the use of end tidal CO2 monitoring for the detection of air embolism in such high risk cases (in those days, a capnograph would have cost 2/3 of my annual salary).
At the time, tuberculosis was very common in the U K, and Dr Horton was often managing thoracic cases under single lung ventilation; however she had pioneered such techniques without the availability of fibre-optic bronchscopes; and, because ventilators were not common, these cases were often ventilated by hand throughout the surgery.
Dr Horton also served as Council Member Association of Anaesthetists of Great Britain and Ireland (AAGBI) in 1976, as well as being Honorary Secretary, AAGBI. Even during her retirement, she spoke on many occasions at the History of Anaesthesia Society. Dr Horton laid the foundations of the Department of Anaesthesia and Intensive Care, Prince of Wales Hospital (PWH), Chinese University of Hong Kong (CUHK); she was a Founding Fellow and Council Member of the H K College of Anaesthesiologists (Fellowship No 0008) . Dr Horton participated as an important member of the Board of Studies, which evolved into the H K C A in 1989, and constituent College of the Hong Kong Academy of Medicine in 1993.
The Arts
Outside of medicine, Dr Horton was very involved in the arts – she was Patron of Edinburgh Festival and Fringe Festival Society. She had a strong alto voice and sang with the Edinburgh Bach Society. Dr Horton also sang with the Hong Kong Bach Choir – once a signal # 10 typhoon was in place, but Dr Horton still managed to attended her audition. Dr Horton was also well travelled – she had visited the Artic; Antartica; the Galapagos Islands; walked the 95 mile West Highland Way in Scotland; visited the Yunnan stone forest; saw the sun set at Uluru (Ayer's Rock) Australia; She visited the Shwedagon Pagoda in Yangon, Myanmar, and was even skiing in Sapporo, Hokkaido, Japan when she was 72 years young. Dr Horton also hiked up to the Base Camp, Mount Everest, Himalayas. In retirement, she was an active participant in the Royal Society of Medicine (History of Medicine); was elected as a member of the Board of Governors of Queenswood school, including organising the Centenary celebrations of her former school. Dr Horton also spent much time and effort researching the geneology of her family and traced her own family history back to 1724, when her great-great-great grandfather, Mr Samuel Horton, a farmer who was born in Mowsley, Leicestershire.
The name of "Dr Jean Horton" was familiar to many UK trained anaesthestists – she was deeply involved with the AAGBI, and was well respected amongst neurosurgical anaesthetists. There were few lady anaesthetists of stature in those days, and the two names one would always hear would be Dr Aileen Adams, and Dr Jean Horton. My first opportunity to meet Dr Horton was when I visited Hong Kong, and presented my research to a meeting of the ASEAN anaesthetists in 1984. During a period of free time, Dr Horton very kindly took me for a visit to the campus of the Chinese University of HK, as well as a short visit to the PWH, Shatin. The warm hospitality shown by Dr Horton made a great impression on me, and I took up the post at C U H K.
Following Prof. Andrew Thorton's early retirement to return to the UK to look after his wife, Dr Jean Horton became Acting Chairman of the Dept of Anaesthesia and Intensive Care, PWH. Quietly and behind the scenes, Dr Jean Horton had arranged for the CUHK to make a formal invitation for Prof Teik Oh to visit Hong Kong; it was following this initiative, that he was appointed as Chair Professor of the Dept of A & I C, PWH. This was so typical of Dr Jean Horton – she would stay quiet, observing everything, and when she had made a decision, she would speak with her confident and powerful voice, and things would get done. She loved the challenge of working and living in HK and earned the respect and friendship of many Hong Kong people. Reflecting this love of HK, in 2016, Dr Horton travelled here on her own, at the age of 92 years, to attend the World Congress of Anaesthesology, in order to meet up with her friends and former colleagues.
Dr Horton pioneered many aspects of anaesthesia and intensive care that we all now take for granted. In spite of such a commitment to her specialty, Dr Horton still made time for her interest in the Arts. Most of all Dr Horton made time for the people around her. She would always gain the utmost respect of those who met her.
In Dr Jean Horton, not only did we encounter a great doctor, but we gained a true friend. For those of us who had the privilege of meeting Dr Horton, our lives will all have been touched by her wonderful friendship.
Dr John M Low
December 2021
Foot Note
Dr Horton passed away on the 21st October 2021, a week short of her 97th birthday. Many more interesting details are to be found in an interview with International Anaesthetist, AAGBI, as well as her fascinating autobiography "Heads for Medicine – Jean Horton" (2011) ISBN: 978-1-90517-8-49-0.
https://anaesthetists.org/Home/Heritage-centre/Collection/Oral-Histories/Dr-Jean-Horton-International-Anaesthesia


After more than three-year's hard work, the College is delighted to announce that the Joint Syllabus for Intensive Care Medicine was approved by the Hong Kong Academy of Medicine Education Committee on 9th November 2021 and will be implemented on 1st July 2022. Trainees who commence their ICM training programme on 1st July 2018 will follow the joint syllabus. The joint syllabus and the Guidelines on Workplace-based Assessment can be found here under Vocational Training Guide.


2021 FPM and HKCA Combined Spring Meeting
FPM HKCA Combined Spring Meeting was held virtually on 16th October 2021 with Dr Steven Wong, Dr Simon Chan and Prof CW Cheung as the speakers, and Dr Fiona Tsui as the Chair of a session. This combined meeting was planned to be held in Queensland, New Zealand in 2020. However, due to the pandemic, the meeting was postponed to 2021 and was changed to online meeting.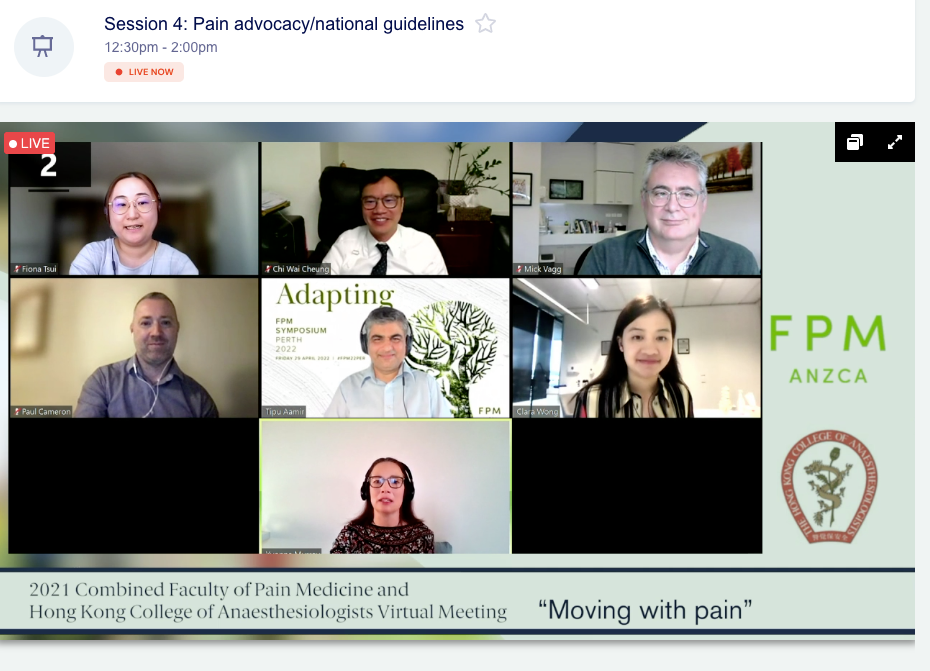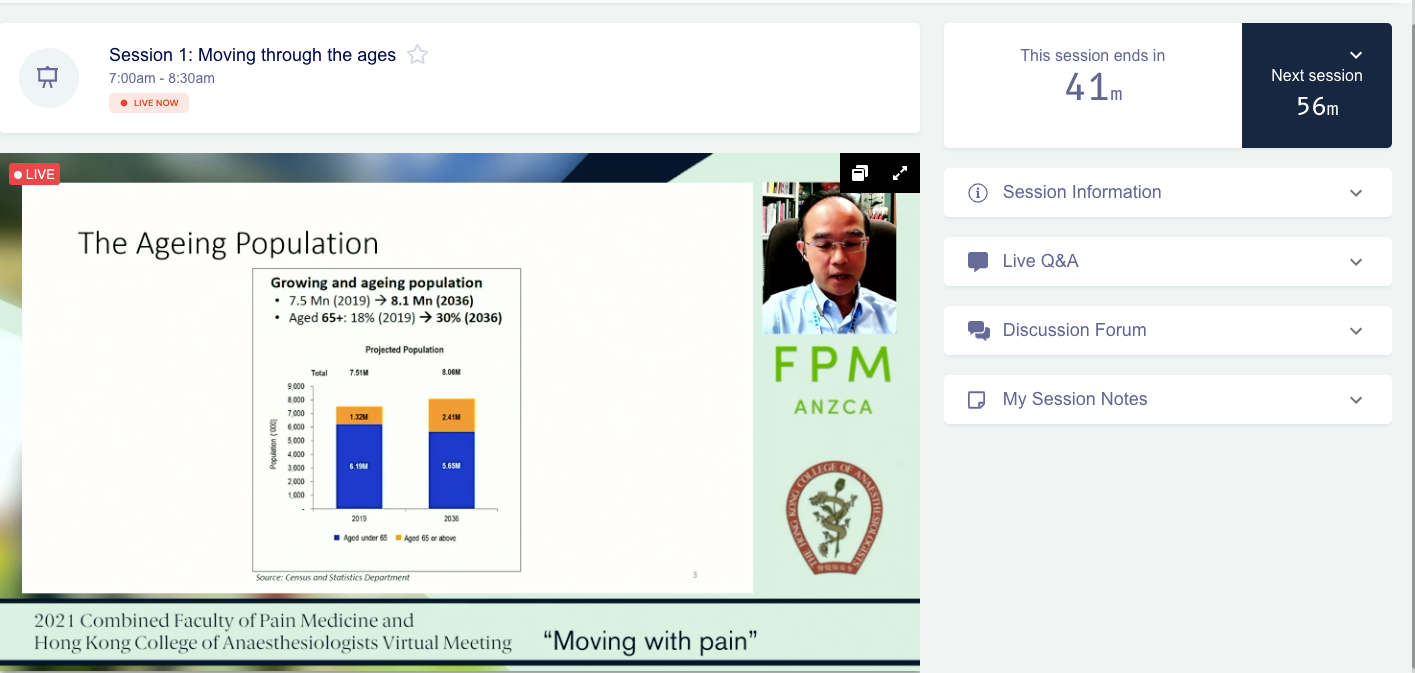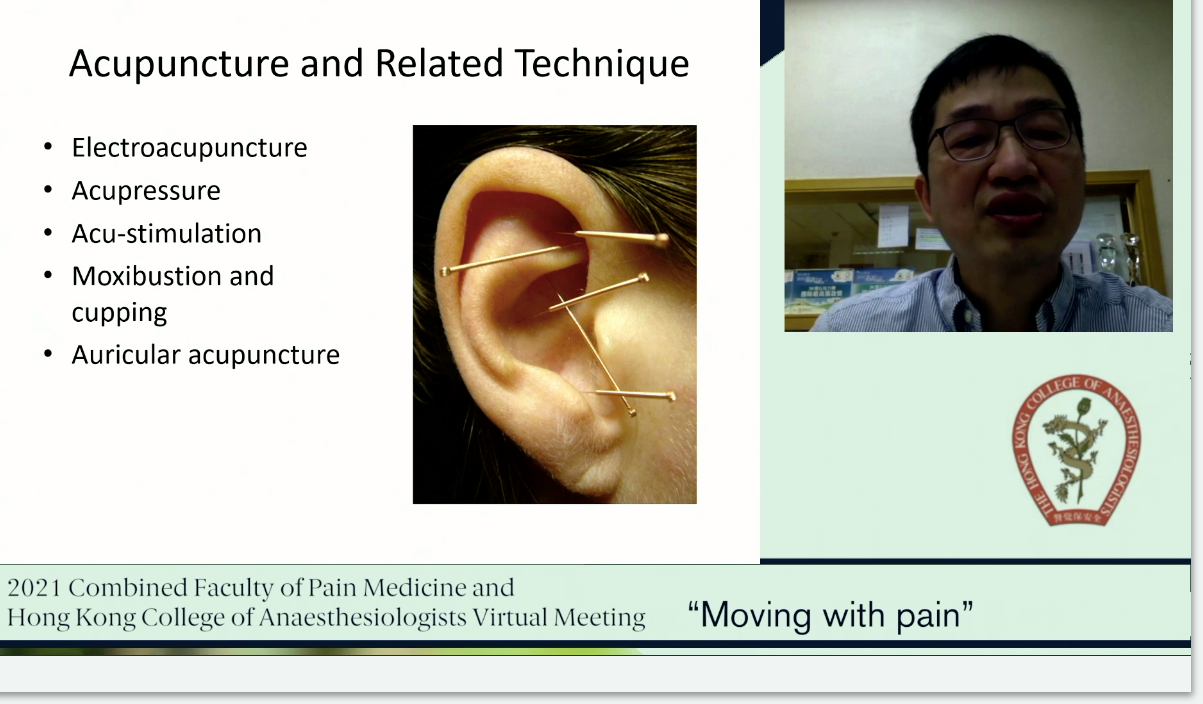 CAI's webinar by Frances Lui
Dr Frances Lui representing HKCA delivered a talk on "A journey to improve maternal safety in China and Hong Kong" on 12th November 2021 for the College of Anaesthesiologists or Ireland National Patient Day.