President
Dr SO Hing Yu
1st Vice President
Dr CHEE Yee Eot
2nd Vice President
Dr CHEN Phoon Ping
Honorary Secretary
Dr CHAN Simon Kin Cheong
Honorary Treasurer
Dr CHAN Chi Wing (Timmy)
Assistant Secretary
Dr WONG Man Kin (Henry)
Assistant Treasurer
Dr KHU Kin Fai

Council Members
Dr CHAN Albert Kam Ming
Dr CHAN King Chung Kenny
Dr CHENG Chun Pong (Benny)
Dr CHOW Yu Fat
Dr LIU Tak-chiu (John)
Dr John LOW
Dr SO Hang Kwong Eric
Immediate Past President
Prof CHEUNG Chi Wai
In attendance
Ms Kristy Cheung, CEO
Ms Fonia Lam, SAO
Ms Dorothy Liu, AO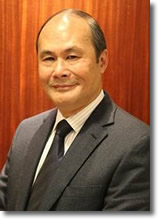 My sincere thanks to the support of all fellows and members of the college, as well as all council members, for me to have this opportunity to be President of the Hong Kong College of Anaesthesiologists. The "mission" of the college, written in the college webpage, is to ensure the quality of our specialists through training, examination, certification, continuing medical education, accreditation and other related activities. Since founded in 1989, the college has been a leader in patient safety, quality improvement and medical education. We should all be deservedly proud of those achievements. However, we are facing major changes in our society especially in the last few years. Those changes are imposing major challenges to our systems. On the other hand, insecurity could bring about a sense of urgency which may drive changes and improvements. "It was the best of time, it was the worst of time,….it was the spring of hope, it was the winter of despair." I think we should reflect on those words of Charles Dickens in The Tales of Two Cities and see how we can make this the best of our time and our spring of hope.
Dr Hing-yu SO
President
2021
| Past Presidents | Year |
| --- | --- |
| Dr TM MOLES | 1989-1991 |
| Prof TE OH | 1991-1993 |
| Dr Ronald LO | 1993-1995 |
| Dr HUNG Chi-Tim | 1995-1997, 1997-1999 |
| Dr LEE Tsun-Woon | 1999-2001, 2001-2003 |
| Prof Tony GIN | 2003-2005, 2005-2007 |
| Prof Michael IRWIN | 2007-2009, 2009-2011 |
| Dr Yu-fat CHOW | 2011-2013, 2013-2015 |
| Dr LIU Tak-chiu John | 2015-2017 |
| Prof CHEUNG Chi Wai | 2017-2019, 2019-2021 |