Annual Subscription
Debit notes for the 2019 subscriptions have been sent to Fellows and Members. Please settle your subscription as soon as possible.
The subscription fees for 2019 are:
Local Fellow: HK$3,500
Local Member: HK$1,750
Overseas Fellow: HK$ 875
Overseas Member: HK$ 438
Senior / Retired Member/Fellow: waived
The annual subscription would be waived for fellows and members aged over 65 or for those who have declared retirement (irrespective of age). The waiving of subscription will start in the following financial year after the fellow/member had attained aged 65 or over or after the retirement application received by the College secretariat. To declare retirement, a written declaration from the applicants confirming that they had retired from all remunerative practice/job/business in or outside Hong Kong. Should you have any questions about the subscription, please contact the College at subscription@hkca.edu.hk.
CSM 2022 – Co-convenor Wanted !
We are now recruiting a Co-convenor for the 3rd Combined Scientific Meeting (CSM) co-hosted by Australian and New Zealand College of Anaesthetists (ANZCA) in Hong Kong in May 2022. Since the CSM is a large-scale conference comparing to the Annual Scientific Meeting (ASM) we organise every year, it is preferable to have the Co-convenor with at least 5-year post-fellowship. The Co-convenor appointed by the HKCA will be working closely with the Co-convenor appointed by ANZCA, and the other members of Organising Committee (OC) in the next few years. Regular OC meetings would be conducted at the HKAM Building and occasional travels might be required, if necessary. ANZCA based members of OC will join the OC meetings via teleconferences. If you are interested in this post and your FHKCA was awarded on or before 31st December 2014, please send your name to kristy@hkca.edu.hk on or before 14th April 2019.
Dr Sathasivam Anandaciva
We were saddened to hear of the passing away of Dr Sathasivam Anandaciva on 4th January 2019 at Pok Oi Hospital after long illness. Dr Anandaciva is a Foundation Fellow, Council Member (1989-1991), 1st Vice President (1991-1993) and 2nd Vice President (1993-1995) of the HKCA. He is very well known and loved and respected amongst the anaesthetic community, intensive care specialists and nursing staff, especially those who were trained by him and worked as part of his team at Tuen Mun Hospital. A man of great intellect, absolute integrity, and a heart overflowing with love and care for those around him, we shall all miss him.
The following is the message from Dr Anandaciva's family.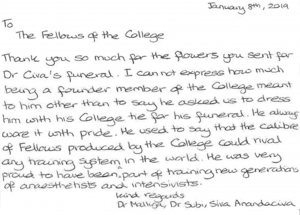 Certificates
The certificates of the following fellows have not been collected yet. To collect your certificate, please go to the College's Office during office hour.
FHKCA:
Chan Shing Chau, Ng Nga Lai Alice, Li Ho Yin Adrian, Wai Ka Ming
FHKCA(IC):
Ng Wai Tsan
Pain Medicine:
Li Cheuk Yin
DPM:
Mak Ho Kwong Peter