Annual Scientific Meeting in Anaesthesiology 2023

The Annual Scientific Meeting in Anaesthesiology 2023 (ASM 2023) will be held on 18th – 19th November 2023 at the Hong Kong Convention and Exhibition Centre.  You are cordially invited to participate in the most important knowledge exchanging platforms for anaesthetists, intensivists, pain medicine physicians and perioperative physicians in Hong Kong.
The ASM theme this year is "A New Leaf" signifying turning over a new leaf in this post-COVID era, celebrating the ASM finally having a fully physical meeting after a 4-year hiatus, embracing new advances in Anaesthesiology and Medicine as well as emphasising green themes of wellness, sustainability and positivity. Exhibition will be held concurrently to showcase new products and services during the Meeting.
The Organising Committee have invited esteemed keynote speakers including Professor Gregory Hammer, Dean Davy Cheng and Professor Philip Peng, who will surely enrich our scientific program. There is also a series of interactive and wellness workshops arranged.  The Scientific Committee of ASM 2023 welcomes the abstract submission for Oral Presentation at the Meeting.  Please visit the meeting website www.anaesthesiology.hk and more information will be announced in due course.
Important Dates:
Deadline for Abstract Submission:       18th September 2023
Deadline for Early-Bird Registration:    18th October 2023
Call for Abstracts and Registration will start soon. Please stay tuned! 
CME/ CPD/ CNE points will be applied for local participants.
For enquiry, please contact the ASM 2023 Meeting Secretariat at (852) 2559 9973 or via email to asmhk@icc.com.hk.
Revised Vocational Training Guide for Training in Intensive Care
The Board of Intensive Care Medicine has revised the Vocational Training Guide (VTG) for Training in Intensive Care. The new VTG will be effective on 1st July 2023. Trainees who commence their Higher Training in Intensive Care in or after July 2023 will follow the new training programme.
Under the new Training programme, at least 6 months of higher training in intensive care must be posted in an unit accredited as Category A centre, and at least another 6 months in an unit accredited as Category B centre.  The list of approved units of Category A and Category B could be seen here.
Young Fellows Committee (YFC) Updates
The YFC Careers Talk took place on Sunday 23rd April 2023, it was attended by over fifty fellows and trainees. The event provided a platform where young fellows and trainees can learn more about the different career paths open to them, and be inspired by the stories shared by the leaders in our field.  Prof Matthew Chan and Prof Gordon Wong from our two universities were invited to talk about the challenges they faced walking the academic path, and the satisfaction and freedom they gained in return.  Dr CK Chan and Dr KK Liu have both established strong careers in private practice and came to tell us about the work they do, and debunk myths about the private sector.  Dr Gladys Kwan and Dr Leo Wat both have extensive administrative experience and discussed with us what it is like to be an administrator full time and working with people from a non-medical background.  Finally, Dr Anne Kwan and Dr Louis Mok shared with us their experiences working with NGOs in poverty stricken or war-torn places, their presentations were complemented with photographs taken during their services which left a deep impression with us all.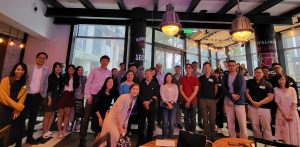 The aim of the Careers Talk was never to promote any particular career path, but to encourage young anaesthetists to think ahead and seek out more information about the various career options. The YFC is extremely grateful to all the speakers and seniors for volunteering their time, to SAHK who made the event free for their members and trainees, and the College for their unwavering support.   The members of YFC were also very happy to see fellows and trainees from across generations and good friends from different hospitals enjoy a relaxing afternoon together!
The Upcoming YFC Activity: Volunteer x Simulation Experience at Crossroads will be held on Saturday 29th July 2023. It is a day of charity and social work as combined with a special simulation experience at Crossroads. The programme will include a half-day of volunteering in the morning (medical equipment checking, sorting, packing and loading containers for humanitarian relief, site maintenance), followed by an afternoon of experiential programs (simulated experiences).  You are welcome to sign up for only the AM (volunteering) or PM (simulated experiences) session, or to sign up for the combined whole-day program.  More information can be found on the Google form here.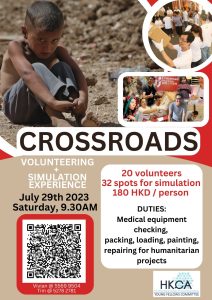 As there are limited places, please sign up as soon as possible through the Google form. Each anaesthetist can bring up to 2 additional guests. However, please do not bring children (under 15 years old) as no arrangements have been made for them. Registration closes on the 15th July 2023 as numbers need to be confirmed.
Final Fellowship Examination
After the three years of COVID-19 pandemic, a champagne reception for successful candidates was resumed at the last final fellowship examination on 14th May 2023. It was a joyous celebration with tears of joy.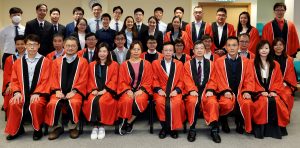 Dr Simon Chan and Dr Gladys Kwan gave a short but visionary speech about career at the reception. Passing the final examination does not mean the training is coming to the end but the "real" training begins from this day onwards. 
"This is not the end. It is not even the beginning of the end. But it is, perhaps, the end of the beginning" by Winston Churchill.
For more photos, please go to the Members Area of the College's website.
Webinar on Artificial Intelligence
In the recent times, there has been increasing interest in rapidly advancing artificial intelligence applications and technologies. The implications of artificial intelligence on medicine, anaesthesia and medical education is largely unknown to most healthcare practitioners. As such, the Board of Education invited distinguished speakers to 2-hour webinar on "Updates on artificial intelligence for anaesthesia practice and education" to share their insights on this subject. On 20th May 2023, the webinar was successfully carried out with over 250 registrations and nearly 200 participants watching live.
The College and Board of Education would like to extend their gratitude to Dr Kenny Chan, Professor Matthew Chan, Profession William Cheung, and Dr Joshua Ho for demystifying some key concepts in artificial intelligence, and sharing their insights on the implications on the practice of medicine, anaesthesia and medical education, and delivering many inspiring take-home messages.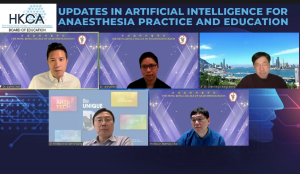 Self-care in the Face of Grief
Our community has been saddened by recent news of passing of colleagues who we have known or worked closely with. Superimposed upon the stresses of daily work and life in general, it is important to prioritise self-care and support each other as we process our grief.
The following are some things that we could be doing in times like these:
Take time to grieve: Allow yourself to feel your emotions and take the time you need to process your grief.
Connect with others: Reach out to friends, family, or colleagues for support. It can be helpful to talk about your feelings with others who are going through the same experience. As part of our positive psychology project, the college will soon provide a venue for sharing.
Practice self-compassion: Be kind and gentle with yourself during this difficult time. Remember that it is okay to not be okay.
Take care of your physical health: Exercise, eat well, and get enough sleep. Taking care of your physical health can help improve your mental health.
Seek professional help if needed: If you are struggling to cope with your emotions, consider reaching out to a mental health professional for support.
Remember that everyone processes grief differently and there is no right or wrong way to do so. Take care of yourself and those around you during this difficult time.
2023 ANZCA ASM and ELC
Since the COVID-19 has gone and normal life has been resumed, the 2023 ANZCA Annual Scientific Meeting (ASM), and Emergency Leaders Conference (ELC), which were held in early May, returned to the face-to-face format. The ELC is a prestigious event and is an extraordinary platform for sharing of opinions, experiences and knowledge from across the world. The HKCA President and a HKCA young fellow are invited to participate the ELC every year. As always, the College received overwhelming nominations from the COS and all of the nominated young fellows are full of potentials. The Council has faced a difficult task in selecting one of the nominees. This year, Dr Zoey Tam was selected to attend the ELC. Dr Tam will share the insights she has gained from the ELC at the ASM organised by HKCA and SAHK in November 2023. The College recognises the value of ELC and hopes to offer more opportunities to the HKCA young fellows, the College is exploring with ANZCA whether two places whether more opportunities could be offered to our young fellows. Given the limited places of the ELC and its prestigiousness perceived by ANZCA new fellows, let's keep our fingers crossed!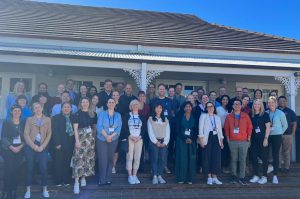 Dr Hing-yu So, the President of HKCA, and Ms Kristy Cheung, the CEO of HKCA attended the ANZCA President's dinner, College's Ceremony and Gala Dinner which are the regular overseas events that the President and CEO attending in the hope of forging a close relationship between the two Colleges, and forging networks and friendships with other overseas colleges and societies. This year, Dr Alfred Chan, Dr Ho-yin Chan, and Dr Jeffrey Ip received the ANZCA Fellowship in Pain Medicine at the College's Ceremony. The College would like to extend the congratulations to them.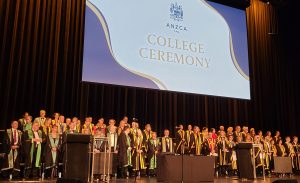 Having a business meeting with ANZCA was one of the major objectives of the trip. In additional to the ongoing collaborations with ANZCA, both Colleges are positive about any potential collaborations that would be benefits to both Colleges.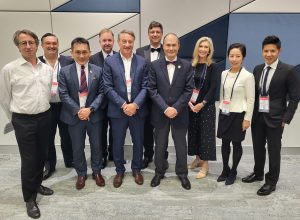 Order of appearance (left to right): Dr Kieran Davis (FPM Dean), A/Prof Robert O'Brien (ANZCA Executive Director, Education and Research), Dr Timmy Chan (Chair of Board of Pain Medicine), Mr Nigel Ridgeon (ANZCA CEO), Dr Chris Cokis (ANZCA President), Prof David Story (ANZCA Vice President), Dr Hing-yu So (HKCA President), Ms Leone English (FPM Executive Director), Ms Kristy Cheung (HKCA CEO), Dr Albert Chan (Chair of Board of Education), and most importantly Dr Henry Wong (HKCA Training Officer) who was behind the scene to take this photo.
International Academy of Colleges of Anaesthesiologists

ANZCA handed over the presidency of International Academy of Colleges of Anaesthesiologists (IACA) to RCoA at the RCoA's flagship conference in Birmingham during 16th – 18th May 2023. To mark this special occasion, a video has been produced.
This video covers the sharing of the president of each founding Colleges on how having a community of practice has benefited each college whether through building cooperation across operational teams, raising profile and having likeminded group to share and learn from, especially during challenging times.
https://link.anzca.live/IACA-update-video
More details on IACA can be found here.