Cancellation of the Intermediate and Final Fellowship Examinations
With the emergence of COVID-19 infection and implementation of emergency response, the Board of Examination has made a difficult decision to cancel both the Intermediate and Final Fellowship Examinations in the first half of 2020. The College hopes our fellows and members stay strong and healthy during this hard time.
Champion of Intercollegiate Basketball Tournament

The College offers the congratulations to the basketball team of the Hong Kong College of Anaesthesiologists who won the second championship of the Intercollegiate Basketball Tournament on Sunday 5th January 2020 organised by The Hong Kong College of Otorhinolaryngologists.
The team members are: Ka-ho Ip (Team Leader), Alex Chan, Leo Chan, Morgan Chan, Victor Cheung, Matthew Ho, Eddie Hui, Jeffrey Ip, Ernest Lam, Man-shun Law, Chun-wai Lee, Adrian Leung, Chung-sing Leung, Rayfield Leung, Samuel Tong, Timothy Yang, Ben Yeung and Steven Yip.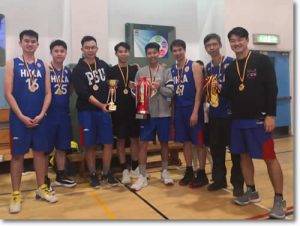 Online CME quizzes
With the help of our President and some councillors, the following five online quizzes have been developed and will be available on iCMECPD according to the schedule until 31st December 2020.
| | | |
| --- | --- | --- |
| Starting from | Contributor of CME quiz | Title |
| 17th January 2020 | Prof Cheung Chi Wai | Spinal cord stimulation for chronic non-cancer pain: a review of current evidence and practice |
| 17th January 2020 | Prof Cheung Chi Wai | Opioid therapy for chronic non-cancer pain: guidelines for Hong Kong |
| 31st January 2020 | Dr Wong Man Kin (Henry) | Iron homeostasis and perioperative management of iron deficiency |
| 31st January 2020 | Dr Wong Man Kin (Henry) | Pharmacokinetics of anaesthetic drugs at extremes of body weight |
| 14th February 2020 | Dr Liu Tak Chiu (John) | Lung-protective ventilation for the surgical patient: international expert panel-based consensus recommendations |
1 CME point per quiz would be awarded on completion. If you are unable to login, please try one of the options displayed on iCMECPD. If you are still unable to login, please contact the Academy at 2871 8888.
The aim is to provide a total of 10 CME quizzes by the end of first quarter 2020. If fellows are interested in developing the online CME quizzes, please contact the College by emailing to cmecpd@hkca.edu.hk. 3 active CME points (Development of CME/CPD Materials) would be awarded by setting an online quiz with 10 MCQs.
CME points for participation as an appraiser for WBA
The new curriculum has been implemented for more than 1.5 years, various feedbacks have been received and will be addressed by the College. If there is any comment or suggestion for the College, please send it to hkcaeducation@hkca.edu.hk. it is important to have trainers' participation and input in the new curriculum. To encourage the trainers' participation, 0.5 active CME point would be awarded by conducting the Workplace Based Ass essment (WBA) for trainees. For details, please refer to the CMECPD programme.

8.10 Participation as an appraiser for Workplace Based Assessment (WBA): 0.5 points per assessment (effective from 1 July 2018).
Workplace Based Assessment Train-the-Trainer (WBA TTT) Workshop
The inaugural HKCA WBA TTT Workshop was successfully held on 7th December 2019 at Hong Kong Children's Hospital Simulation Training Centre (ChildSim). Merging simulation with faculty development in Workplace Based Assessment to meet the demands of the new curriculum, the workshop was well received by the participants. More workshops are currently being planned for 2020.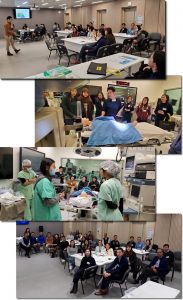 HKCA Souvenirs
To mark the College's 30th Anniversary, a collection of accessories has been made. Should you wish to place an order, please complete the form here. For enquiries, please email us at office@hkca.edu.hk.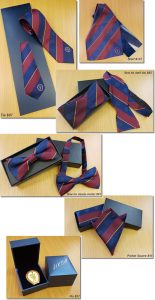 Administrative Instructions for Examinations
The College has revised the Administrative Instructions for Examinations. With immediate effect, exemption may be granted from the Intermediate Fellowship Examination to candidates who have passed:
(1) The Primary Fellowship Examination of the Australian and New Zealand College of Anaesthetists;
(2) The Primary (or previous equivalent Part 2) examination of the Royal College of Anaesthetists
These exemptions are subjected to periodic review by the Council. Should you have any query, please contact the College via hkcaexam@hkca.edu.hk.
Updates from Brigadier Ivan Houghton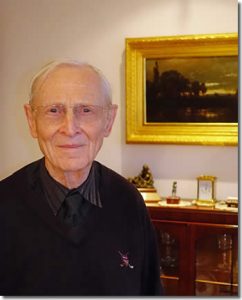 Brigadier Ivan Houghton, who is one of the founding fellows and was the Secretary of the first and second Council (1989-1991, 1991-1993), has recently shared his news with the College. Brigadier Houghton is the President Elect of the Medical Society of London, which was founded in 1773, and he will be taking over the Presidency in October 2020. The College sends him congratulations and every good wish for his Presidency. Brigadier Houghton would also like to send his best wishes to his old friends, fellows and members of the HKCA.
2020 World Critical Care and Anesthesiology Conference

Episirus Scientifica welcomes you to attend 2020 World Critical Care and Anesthesiology Conference (2020WCAC) to be held during September 8-9, 2020, in Bangkok, Thailand around the theme 'Thought Provoking Solutions to Improve the Crisis of Critical Care''. This international meeting (2020WCAC) anticipates hundreds of participants including keynote speakers, Oral presentations by renowned speakers and poster presenters besides delegates around the world. This conference perhaps a giant event that creates an ideal platform to share expertise addressing current advancements involved in Critical Care and Anesthesiology.
Certificates
The certificates of the following fellows have not been collected yet. To collect your certificate, please go to the College's Office during office hour.
FHKCA:
Li Ho Yin Adrian
DPM:
Mak Ho Kwong Peter