Meetings with International Colleges
The College has maintained strong external relationships with the international colleges since the Memoranda of Understanding were established with Australian and New Zealand College of Anaesthetists (ANZCA), The College of Anaesthesiologists of Ireland (CAI) and Royal College of Anaesthetists (RCoA). Prof CW Cheung, President, Dr Simon Chan, Honorary Secretary, Dr John Low, Council Member and Ms Kristy Cheung, CEO of the College had meetings with the Presidents and the CEOs of ANZCA, CAI and RCoA in Kuala Lumpur during ANZCA Annual Scientific Meeting. More international activities will be undertaken in partnership with the international colleges in near future.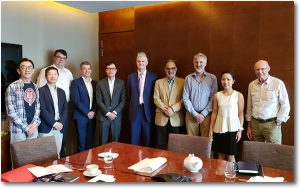 Visit by ANZCA President and Vice-President
Dr Rodney Mitchell, President of ANZCA, and Dr Vanessa Beavis, Vice-President of ANZCA, paid us a visit during 8-10 May 2019 and engaged in constructive discussion with our fellows and trainees. The discussions explored the potential collaborations and partnerships between the two Colleges on different areas such as joint academic events and cooperation on policy level.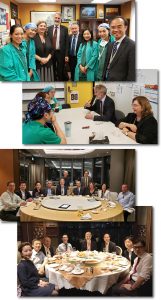 Annual Scientific Meeting in Anaesthesiology 2019 (16 – 17 November 2019, Hong Kong)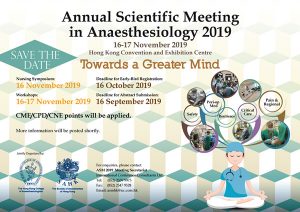 The Annual Scientific Meeting 2019 (ASM 2019) will be held on 16-17 November 2019 at the Hong Kong Convention and Exhibition Centre. The theme of this year's meeting is "Towards a Greater Mind". The Organising Committee is putting together a stimulating scientific programme to enrich the minds of our audience with discussions on patient safety, subspecialty updates, medical education, and the latest innovations in anaesthesiology. Our social programme will focus on developing mindfulness to enhance our well-being and productivity. We have no doubt that participants of the ASM will go home with a "greater mind" and fresh ideas that can be incorporated into their daily practice to improve quality of care for our patients. Through knowledge exchanges among experts from across the globe, we hope the knowledge acquired can translate into better clinical practice that will ultimately benefit our patients. More information will be available at the meeting website http://www.anaesthesiology.hk shortly.
Annual Subscription
Debit notes for the 2019 subscriptions have been sent to Fellows and Members. Please settle your subscription as soon as possible.
The subscription fees for 2019 are:
Local Fellow: HK$3,500
Local Member: HK$1,750
Overseas Fellow: HK$ 875
Overseas Member: HK$ 438
Senior / Retired Member/Fellow: waived
The annual subscription would be waived for fellows and members aged over 65 or for those who have declared retirement (irrespective of age). The waiving of subscription will start in the following financial year after the fellow/member had attained aged 65 or over or after the retirement application received by the College secretariat. To declare retirement, a written declaration from the applicants confirming that they had retired from all remunerative practice/job/business in or outside Hong Kong. Should you have any questions about the subscription, please contact the College at subscription@hkca.edu.hk.
Perioperative Medicine MSc (University College London)
Perioperative medicine is a rapidly evolving field committed to providing best-evidence care to surgical patients to improve their outcomes and experience. Perioperative Medicine MSc is designed around an exciting international syllabus equipping healthcare workers with the advanced knowledge and understanding required for the management of patients, contemplating, undergoing and recovering from surgery. For details, please visit the coure website.
Certificates
The certificates of the following fellows have not been collected yet. To collect your certificate, please go to the College's Office during office hour.
FHKCA:
Chan Shing Chau, Ng Nga Lai Alice, Li Ho Yin Adrian, Wai Ka Ming
FHKCA(IC):
Ng Wai Tsan
Pain Medicine:
Li Cheuk Yin
DPM:
Mak Ho Kwong Peter