ASM 2018 – Message from the Chairman of Organising Committee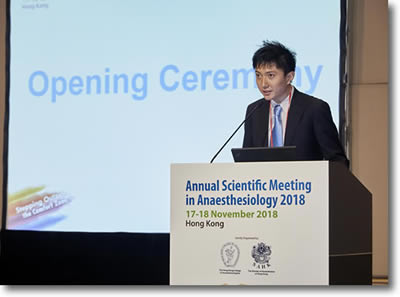 More than a year ago, I was invited to organise the Annual Scientific Meeting (ASM) 2018. I have been to most ASMs since my trainee years and I have always enjoyed my role as a participant. They never fail to disappoint and my predecessors have set a high bar throughout all these years. Organising one is outside my comfort zone as I know that the meeting involves a lot of administrative work and it takes a lot of commitment.

As a fellow, I told myself that it was time to contribute more. Having witnessed many fruits of the meeting in previous years, I thought this task was worth the effort. I finally agreed to take up the task and sure enough, there were different challenges throughout the preparatory stage to overcome. Thanks to the selfless dedication of my fellow organising committee members, College, SAHK and ICC, many tasks seemed like a piece of cake.

Our theme this year is Stepping outside the Comfort Zone as we see the importance of not standing still. There is no such thing as good enough, but we should seek the better for our patients. Keeping this philosophy in mind, we came up with some new ideas. We had our first Extracorporeal Membrane Oxygenation (ECMO) workshop. We invited foreign faculties to teach in our CPET workshop. The Ventilation, Critical Care Ultrasound and West China Pig Heart Dissection Echo workshops were very well liked too. We tried to incorporate new topics in our symposia to expand our horizon in Anaesthesiology.

Another highlight of this year's ASM is our Time Capsule exhibition, as delegates were taken on a journey through the history of Anaesthesiology. Hearing our seniors talk about their nostalgia of the past to the younger generations in front of different exhibits, it is a moment to appreciate how our predecessors made the effort to improve their anaesthetic techniques. The advanced technology we have today would not be possible without their dedication and this should not be taken for granted.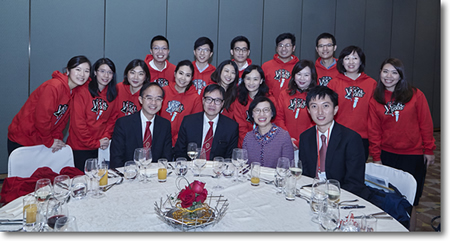 Our choir, the 'Vocal Chords', put their best foot out and enchanted delegates with their singing this year once again. Their performance impressed our foreign and local delegates and faculties, including Prof Sophia Chan, the Secretary of Food and Health. If you have missed their performance, please check it out here.

This year's ASM taught me a lot and I made many new friends from different hospitals as well. Although there were stressful moments when work became a little overwhelming, there was always someone who was willing to give me a hand. I enjoyed this journey I took with my fellow colleagues and admired their different talents. May the upcoming ASM be another fruitful one.

For more photos of ASM 2018, please visit Photo Gallery in Members' Area of College's website.

Dr Wesley Leung
Chairman of Organising Committee, ASM 2018
HKCA Congregation
In this year's congregation, Prof Sophia Chan, JP, the Secretary for Food and Health graced the congregation with her presence. She also joined the Congregation Dinner following the Congregation to celebrate the occasion with our new fellows.
For more photos of the congregation, please visit Photo Gallery in Members' Area of College's website.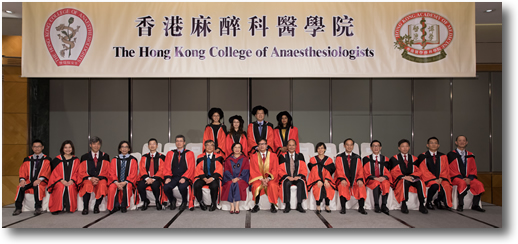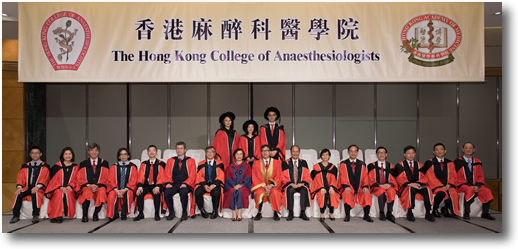 ANZCA President's visit
Dr Rodney Mitchell, the President of ANZCA visited Hong Kong during 16–19 November 2018. He attended the HKCA Congregation, toured a few hospitals in Hong Kong, and had a business meeting with HKCA. The meeting with Dr Mitchell was fruitful and constructive, and it was agreed that both Colleges should work together in partnership.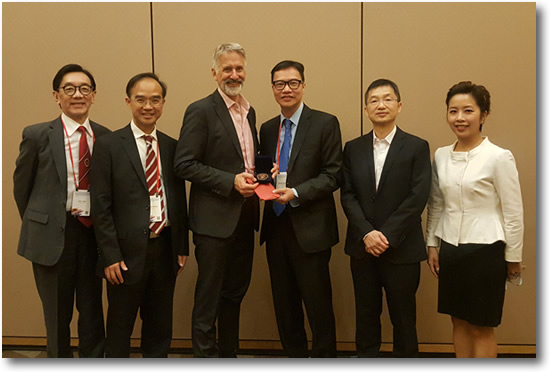 Spring Meeting
The inaugural Spring Meeting in Pain Medicine collaborated by Faculty of Pain Medicine (FPM) ANZCA and HKCA was held in Cairns, Australia on 19–21 October 2018. The College would like to express heartfelt gratitude to the contributions of the members of Organsing Committee including Dr Timmy Chan, Dr Tony Ng and Dr Clara Wong, and the speakers including Dr Wing-sang Chan, Prof Chi-wai Cheung, Dr Huey-sing Lim and Dr Steven Wong.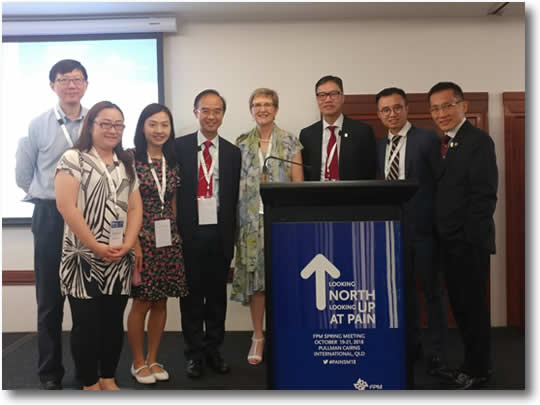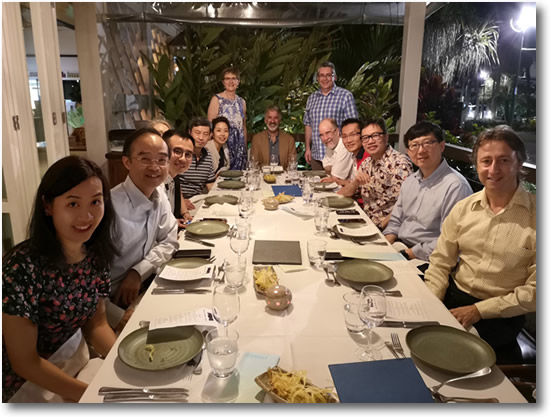 The second collaborative Spring Meeting in Pain Medicine will be held in Hong Kong on 26-27 September 2020. Stay tuned for the details.
RTHK interview
The Hong Kong Academy of Medicine has collaborated with the Radio Television Hong Kong (RTHK) to produce a 20-episode series of programmes providing information related to different specialties. Prof Chi-wai Cheung, the President and Prof Joseph Lui, the 2nd Vice-president of the Hong Kong College of Anaesthesiologists were interviewed at Healthpedia on RTHK Radio One. The interview covered the role of anaesthesiologists, and clarified what Monitored Anaesthesia Care (MAC) is.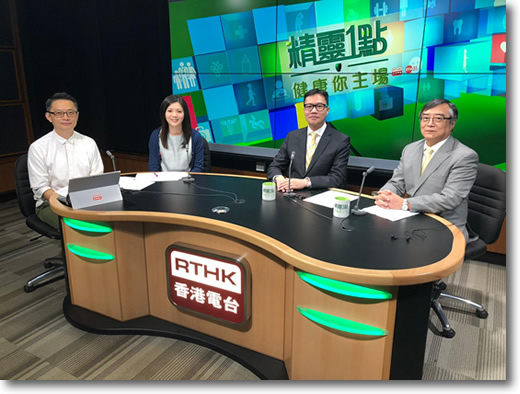 Dr Henry Wong, a fellow of the HKCA and also a member of the Young Fellows Chapter of the Hong Kong Academy of Medicine, attended an interview on RTHK TV 31 and Radio 1 to share his daily routine a an anaesthesiologist.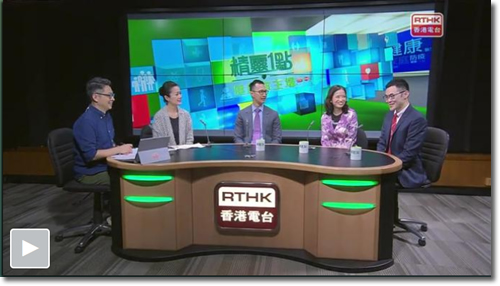 To watch the archives, please visit:
http://www.rthk.hk/tv/dtt31/programme/healthpedia_tv/episode/514487
http://www.rthk.hk/tv/dtt31/programme/healthpedia_tv/episode/515202
Newsletter of FPM, RCoA, Autumn 2018
Dr Douglas Natusch, Member of Training and Assessment Committee, Faculty of Pain Medicine (FPM), Royal College of Anaesthetists (RCoA) was invited to be the External Examiner of the Final Fellowship Examination in Pain Medicine in 2018. Having participated in the examination, Dr Natusch expressed his view regarding the examination conducted in Hong Kong in the Newsletter of FPM, RCoA, Autumn 2018 which can be viewed here (P.17).

The College would like to thank all the examiners who have contributed to the establishment of the fellowship training and examination in pain medicine.
Annual Scientific Meeting in Anaesthesiology 2019 (16 – 17 November 2019, Hong Kong)
The Annual Scientific Meeting 2019 (ASM 2019) will be held on 16-17 November 2019 at the Hong Kong Convention and Exhibition Centre. Please save the date and the details will be announced soon.
Examiners Workshop
An examiner's workshop conducted by Prof Matthew Chan was held on Saturday, 18 August 2018 at Prince of Wales Hospital. It covered the examination format, examining technique, marking and setting examination questions.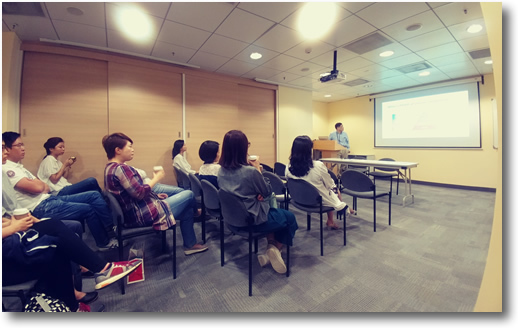 Certificates
The certificates of the following fellows have not been collected yet. To collect your certificate, please go to the College's Office during office hour.

FHKCA:
Chan Shing Chau, Ng Nga Lai Alice, Li Ho Yin Adrian, Wai Ka Ming, Chung Angela Sinman, Hui Cheuk Man Olivia

FHKCA(IC):
Ng Wai Tsan, Tong Man Chun Terence
Pain Medicine:
Li Cheuk Yin
DPM:
Mak Ho Kwong Peter