New Electronic Portfolio System (EPS)
The competency based training curriculum has commenced since July 2018 for the trainees who join the training on 1st July 2018 onwards. A new electronic portfolio system (EPS) has been launched in order to facilitate the process of workplace based assessments (WBA) and documentation of all the WBA activities.
Revised CMECPD Programme
The following new clause has been added to the CMECPD programme.
8.10 Participation as an appraiser for Workplace Based Assessment (WBA): 0.5 points per assessment (effective from 1st July 2018).
The revised CMECPD programme can be downloaded here.
New Clinical Simulation Committee (CSC)
With the recommendation of the Simulation Development Taskforce, a new CSC has been formed with Dr Benny Cheng as the Chair and Dr Patricia Kan as the Vice-chair. With the formation of the new CSC, it was hoped that HKCA could be the leader in medical simulation by organizing high standard courses, promoting research and development for anaesthesiologists and health professionals in the pursuit of patient safety and quality healthcare.

Chair: Dr Benny Cheng
Vice-chair: Dr Patricia Kan
Ex-officio: Prof Cheung Chi Wai
Ex-officio: Dr Anne Leung
Members:
Dr Albert Chan
Dr Kenny Chan
Dr Chen Phoon Ping
Dr Chow Yu Fat
Dr Carmen Lam
Dr Lau Chung Wai
Dr Leonard Sin
Dr So Hing Yu

The Committee shall:
• Report to the Council;
• optimize resources related to simulation to fulfill needs of education, assessment, research and systems integration for HKCA fellows and members;
• ensure high quality of simulation course design, development and implementation with quality instructors;
• collaborate with local and overseas partners in promoting simulation related activities.
Joint Curriculum Workgroup in Intensive Care Medicine
A Joint Curriculum Workgroup in ICM has been formed to develop a common curriculum for intensive Care Medicine. The Workgroup is composed of the representatives from Critical Care Medicine of the HK College of Physicians, HK Society of Critical Care Medicine, and HKCA.

The Workgroup is composed of:
Co-chairs: Dr So, Hing-yu and Dr Ching, Chi-keung
Members:
Dr Chan, Wai-ming
Dr Chan, Kenny
Dr Leung, Anne
Dr Loo, Ching-kong
Dr Ng, George
Dr Szeto, Dione
Dr Yan, Wing-wa
Dr Yip, Yu-yeung

The Workgroup shall:
• Liaise with various stakeholders in understanding the knowledge and skills that are required for Intensive Care Medicine Specialist;
• Develop a curriculum for the training of Specialist in Intensive Care Medicine;
• Recommend the requirement of trainers and training units for Intensive Care Medicine;
• Develop the in-training and certifying assessment for the Specialist in Intensive Care Medicine;
• Recommend the requirement of assessors/examiners for Intensive Care Medicine;
• Advise the Colleges on the pathway to achieving this new joint curriculum.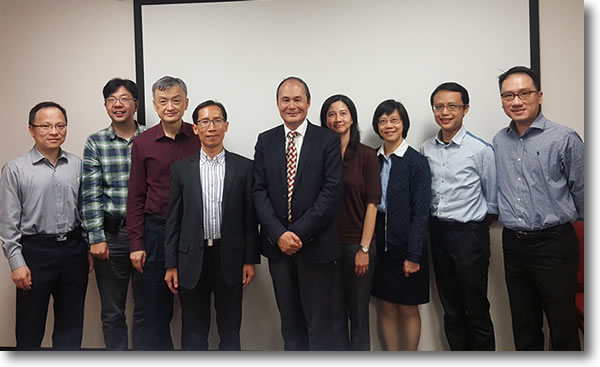 Annual General Meeting
The 29th Annual General Meeting (AGM) was held on Tuesday 21 August 2018 at Cordis Hotel. The President presented the report of the Council and the Honorary Treasurer presented the report of the auditor. The following recommended subscription fees for 2019 were approved at the AGM.

Local Fellow: HK$3,500
Local Member: HK$1,750
Overseas Fellow: HK$ 875
Overseas Member: HK$ 438
Senior / Retired Member/Fellow: waived
Meeting with Dean of FPM, ANZCA
Board of Pain Medicine had a meeting with Dr Meredith Craigie, Dean of Faculty of Pain Medicine (FPM) ANZCA, in early August in Hong Kong. Dr Craigie has reinforced that the relationship of mutual benefit between FPM and HKCA, in particular around pain education and training, examination, continued medical education.
FPM ANZCA welcomes the Hong Kong based FPM ANZCA fellows to be the examiners in Pain Medicine. The information on becoming an examiner is available on on the FPM website including the application form and information on the desirable skills/attributes of an examiner and the Examiner Terms of Reference.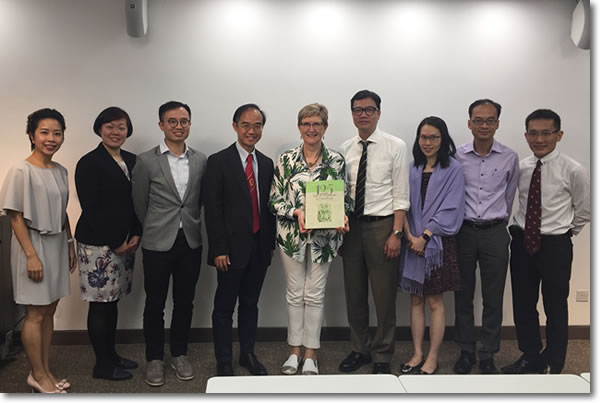 Annual Scientific Meeting in Anaesthesiology 2018 (17 – 18 November 2018, Hong Kong)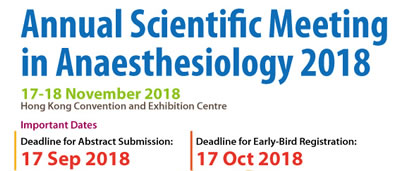 The Annual Scientific Meeting in Anaesthesiology 2018 (ASM 2018), which is jointly organized by the Hong Kong College of Anaesthesiologists and the Society of Anaesthetists of Hong Kong, will be held on 17 - 18 November 2018 at the Hong Kong Convention and Exhibition Centre.

ASM 2018 has become one of the most important experience sharing platforms for anaesthetists, intensivists and perioperative physicians in Hong Kong. The theme of this year's meeting is "Stepping outside the Comfort Zone". Everyone prefers to stay in their comfort zone due to a sense of familiarity and certainty. In the increasingly competitive world, taking new initiatives and challenges is the cornerstone towards achieving greater excellence. Through knowledge exchanges among experts from across the globe, we hope the knowledge acquired can translate into better clinical practice that will ultimately benefit our patients.

This year's programme includes Symposia on Perioperative Medicine, Pain, Neuroscience, Regional, Obstetrics, Sedation, Medicolegal, Transfusion and Coagulation, ICU and Aviation Medicine as well as a series of mind-blowing workshops. Please visit our meeting website at http://www.anaesthesiology.hk for more information.

Submit Abstracts and Register NOW!
Deadline for Abstract Submission: 17 September 2018
Deadline for Early-Bird Registration: 17 October 2018
CME/ CPD/ CNE points will be applied for local participants.

For enquiry, please contact the Meeting Secretariat at (852) 2559 9973 or via email to asmhk@icc.com.hk.
ANZCA Spring Meeting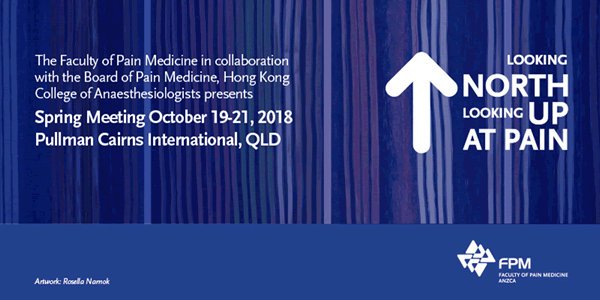 For the first time ever, the Faculties of Pain Medicine of ANZCA and the Hong Kong College of Anaesthesiologists have partnered in the organisation and planning of this year's Spring Meeting to produce a scientific program with a unique Asia-Pacific perspective. Join us in Cairns to explore the theme - "Looking north, looking up at pain"- offering leading-edge sessions on neuromodulation, opioids and Indigenous health and remedies.

Our international invited speaker is Dr Stephen Ward; a consultant in pain medicine at the Brighton and Sussex University Hospitals NHS Trust. Dr Ward was the chair of National Institute for Health and Care Excellence (NICE) guidelines. Speakers from Australia and Hong Kong will complement this unique program with their expert knowledge and experiences.

This meeting promises to be a very special collegiate and social event to celebrate the close ties and cooperation of our two Faculties.

On behalf of the organising committee, I look forward to you joining us for this exciting meeting in Cairns!

Associate Professor Brendan Moore
Convenor

To register and see more information about the meeting, please visit the website


20th Congress of Asia Pacific Association of Critical Care Medicine and Annual Scientific Meeting 2018 by the Hong Kong Society of Critical Care Medicine (HKSCCM)
The 20th Congress of Asia Pacific Association of Critical Care Medicine and Annual Scientific Meeting 2018 organized by the Hong Kong Society of Critical Care Medicine (HKSCCM) will be held on 14-16 December 2018 at Conrad Hong Kong.

Highlighted events include:
• Pre-congress workshop in Haemodynamic Monitoring by overseas experts and Workshop in Critical Care Nephrology.
• 20 overseas experts will share their expertise in various topics in intensive care including Haemodynamic Monitoring, ECMO, Nutrition and Critical Care Nephrology.
• Experts in Intensive Care Medicine from Asia-Pacific regions will share their wisdom and practice in Asia-Pacific Context.
• ICU research/free paper presentation.

Get connected to colleagues in Asia-Pacific Region and save the date.
Details will be announced soon at http://www.hksccm.org/.
email: ccm2018@icc.com.hk
Poster can be downloaded here.

Cross Strait 4 Region Quality Forum (27-28 October 2018)
The 8th Cross Straits Four Region Anaesthesia Quality Forum will be held in Fuzhou, China on 27-28 October 2018. In order to encourage fellows to attend the meeting, the College is pleased to sponsor a maximum of 10 fellows to attend the meeting. The details are as follows:

Date : 27-28 October 2018
Venue: Sheraton Fuzhou Hotel, Fuzhou, China
Sponsorship : Maximum of HK$5,000 per delegate (covering travel, accommodation and registration fee, if any)
Quota: 10

Successful delegates will be required to present their receipts of i) air ticket, ii) hotel accommodation and iii) attendance certificate for reimbursement of actual expenses (cap. at $5,000) after the trip.

Should you are interested in attending the Forum, please send an email to office@hkca.edu.hk on or before 31 August 2018.
Certificates
The certificates of the following fellows have not been collected yet. To collect your certificate, please go to the College's Office during office hour.

FHKCA:
Chan, Shing Chau, Ng Nga Lai Alice, Lau Kai Chiu, Li Ho Yin Adrian, Wai Ka Ming

FHKCA(IC):
Yuen, Henry Jeffrey
DPM:
Mak Ho Kwong Peter