Revised CME/CPD Guideline for Cycle 2014-2016
The revised HKCA CME/CPD programme for cycle 2014-2016 has been published on College's website. It can also be downloaded here. The changes are highlighted in the document and also summarized below for your easy reference.

8.9 Editing or reviewing a manuscript for a peer-reviewed journal (such as Hong Kong Medical Journal or other indexed-journals) is accepted as a form of active CME/CPD.
8.9.1 Three points will be awarded to each manuscript edited or reviewed; and a maximum of 15 points may be accredited for each CME/CPD cycle.

8.9.2 Fellows have to keep their own record for editing or reviewing manuscript for peer-reviewed journals. The record, with journal's name, manuscript identification number and date, has to be submitted to CME Sub-committee for endorsement when fellows wish to claim CME/CPD points.

8.9.3 Prior approval from CME Sub-Committee is required if fellows wish to be awarded CME/CPD points for reviewing manuscript for non-indexed journals or academic institutions.

New Payment method for Settling the Subscription - PayPal
The HKCA Council decided to offer PayPal to fellows and members for settling the subscription starting in 2014. Fellows and members using this payment method are required to bear the service fee charged by PayPal. The details of the payment method will be included in the debit note to be sent in 2014.
Service fee charged by PayPal (per transaction):
Member: HK$37.5
Fellow: HK$75
Annual Scientific Meeting in Anaesthesiology 2015
The HKCA is calling for fellows and members who are interested in joining the ASM 2015 Organizing Committee. If you are interested to be part of the Organizing Committee in 2015, please do not hesitate to contact the College by sending an email to kristy@hkca.edu.hk.

Annual Scientific Meeting in Anaesthesiology 2013

The ASM 2013 was successfully held on 16-17 November 2013. The HKCA would like to take this opportunity to thank the Organizing Committee Members for their valuable time and contribution. The meeting would have never been successful without their efforts.

Chairperson:
Dr Patricia KAN

Scientific Subcommittee:

| Dr Timmy CHAN | Dr Benny CHENG | Dr Michelle CHEUNG |
| --- | --- | --- |
| Dr James CHIANG | Dr Gordon CHOI | Dr Eric CHOY |
| Dr Leo CHU | Dr Alison KOO | Dr Carmen LAM |
| Dr Chung-Wai LAU | Dr Bassanio LAW | Dr Samantha LEE |
| Dr Peggy LI | Dr Eva TSE | Dr Vivian YUEN |

Nursing Symposium Subcommittee:

| Ms Sylvia WONG | Ms Cindy YIP |
| --- | --- |

Health Industry Liaison Subcommittee:

| Dr Michelle CHEUNG | Dr Carmen LAM | Dr Eva TSE |
| --- | --- | --- |

Social Subcommittee:
Dr Peggy LI

Treasurer:
Dr Bassanio LAW

Honorary Advisors

| Dr Simon CHAN | Dr David CHONG | Dr Desmond LAM |
| --- | --- | --- |

Webmaster:
Dr Albert CHAN


HKAM Careers Exhibition

The HKAM Careers Exhibition for Students, Teachers, Careers Masters was conducted successfully on 5 October 2013. The HKCA would like to thank the following fellows and members in representing the HKCA to introduce our specialty to the public and secondary students and making the event a success.
- Chan Chi Wing Timmy (QMH)
- Cheung Chi Wai (HKU)
- Chong Yew Chuan David (QEH)
- Ho Hoi Woon Angela (QEH)
- Kan Kwok Yee Patricia (PWH)
- Leung Ka Mei May (QMH)
- Luk Ting Hin (PWH)


List of Nomenclatures of Procedures and Operations Promulgated by The Hong Kong College of Anaesthesiologists
The HKCA Council would like to advise the fellows and members to be aware of the list of nomenclatures of procedures and operations promulgated by the HKCA listed in the Medical Council Hong Kong.
http://www.mchk.org.hk/dissemination_2.htm
Instructor Sponsorship Programme
To maintain and enhance HKCA ICS instructors' experience, quality and standards, ICS is going to sponsor instructors to participate in relevant conference/workshop/course. The maximum sponsored amount per financial year for each instructor is HK$20,000.
For details, please check at http://www.hkca.edu.hk/ICS/docs/ICS_Instructor_Sponsorship_Program.pdf and application form could be downloaded at http://www.hkca.edu.hk/ICS/docs/ICS_Sponsorship_Form2013.pdf

Medical Simulation: Trends and Applications (10-11 December 2013)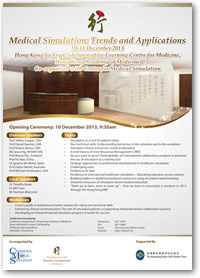 The Simulation Conference "Medical Simulation: Trends and Applications", which marks the Opening of the Hong Kong Jockey Club Innovative Learning Centre for Medicine of the Hong Kong Academy of Medicine, will be held on 10-11 December 2013. The Centre serves to provide a platform and facilities for the post-graduate medical training in Hong Kong and beyond. The Conference is co-organized with The Center for Medical Simulation, based in Boston and led by faculty from Harvard Medical School. This conference is part of the 20th Anniversary Congress.
Overseas speakers from United States, Europe, Australia and China will share with us their experience on topics like Simulation as related to Patient Safety, Teamwork Training, Faculty Development, Undergraduate Curriculum Integration, and Humanitarian Crisis Training. Locally, our Paediatrics and Anaesthesia colleagues will share their simulation training experiences, and a Human Factors Specialist will share his experience about Crew Resource Management Training from the Aviation Industry perspective.
You are also welcomed to enroll in our workshops about Interprofessional Education, Non-technical Skills, and Simulated Patients; and to tour our Centre facilities of Virtual Reality, Procedural Skills and Scenario-based Simulation Training during the Conference lunch hours.
Please visit our Conference web-site http://hkjcilcm.hk/ for further information and registration. Those who have already registered for the 20th Anniversary Congress need NOT register again, as registrants for the 20th Anniversary Congress will be entitled to attend this part of simulation programme.
Academy/College Fellow removed from Specialist Register
At the Academy Council meeting on 12 September 2013, the issue of Academy/College fellow's removal from the specialist register (SR) of the Hong Kong Medical Council was raised. A number of issues were discussed at the Council meeting including: the role of Academy/College on the decision of SR removal, assistance from the Academy/College, the appeal process and reinstatement of membership. Please see the links on the minute of Academy Council meeting on September 2013 for detail and the amended Academy Bylaw 6A on reinstatement of membership in November 2012 for reference.
- Role of the Academy
- Amended Academy Bylaw 6A



Visit to Royal College of Anaesthetists (RCoA)
The HKCA delegation visited the RCoA on 6-7 November 2013. The visit included having a meeting with the RCoA representatives discussing the possibility of future collaboration on training and examination and observing the FRCA Primary Exam. The delegation included Dr YF Chow, Dr John Liu, Dr Simon Chan, Prof. Michael Irwin and Dr CH Koo.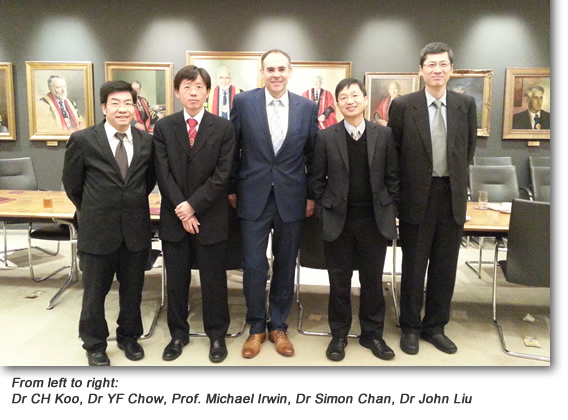 The 2nd AMM-AMS-HKAM Tripartite Congress cum 47th Singapore-Malaysia Congress of Medicine
Dr YF Chow, the President of HKCA joined the delegation led by the Academy to attend the 2nd AMM-AMS-HKAM Tripartite Congress cum 47th Singapore-Malaysia Congress of Medicine from 22 to 24 August 2013. During the 2-day stay in Singapore, some delegates joined the Academy's representatives to visit 4 simulation training centres: Singapore General Hospital's Institute for Medical Simulation, National University of Singapore's Centre for Healthcare Simulation, Singapore Armed Forces' Medical Simulation Training Centre, and the National Healthcare Group's Simulation and Integrated Medical Advancement Centre.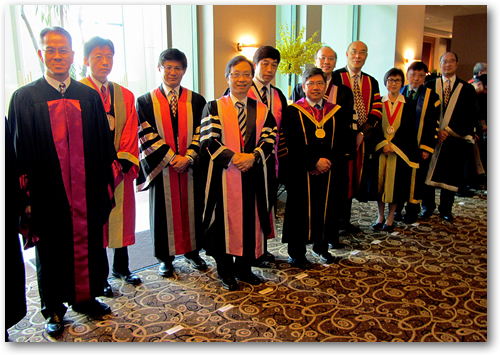 Institute of Clinical Simulation Courses
The Institute of Clinical Simulation courses scheduled for 2013-2014 can be found here.
Certificates
The certificates of the fellows below have not been collected yet. To collect your certificate, please go to the College's Office during office hour.

FHKCA:
Chan Kai Man; Cheung Yee Nin Vivian; Li Ho Yin Adrian; Ng Nga Lai Alice; Yu Clara Kam Ying; Wong Kwong Sun

FHKCA(IC):
Gomersall Charles David; Yip Kim Ho

FHKCA (Pain Medicine):
Assad Hussain; Lee Yuk Ming Sunny; Sze Tak Suen; Wong Sze Ming; Yap Jacqueline Claire Chooi

DPM:
Chiu Ching Pik Candy; Lam Cheung Kwan Brian; Mak Ho Kwong Peter; Njo Kui Hung Anthony