Election of Office Bearers for New Term of Council 2013 - 2015
To accordance with the HKCA bye-laws, an election was conducted earlier. 13 nominations were received by the deadline of 28 March 2013.
| President | Dr CHOW Yu Fat |
| --- | --- |
| Vice-Presidents | Dr LIU Tak Chiu |
| | Dr CHEUNG Chi Wai |
| Honorary Secretary | Dr CHAN Kin Cheong Simon |
| Honorary Treasurer | Dr KOO Chi Hung |
| Assistant Honorary Secretary | Dr SO Mang Sze Alpha |
| Assistant Honorary Treasurer | Dr LAW Cheuk Wah Bassanio |
| Council Members | Dr CHAN King Chung Kenny |
| | Prof Michael IRWIN |
| | Dr KONG Kau Fung Vincent |
| | Dr LEUNG Kit Hung Anne |
| | Dr SO Hing Yu |
| | Dr WONG Ho Shan Steven |

The AGM was held on 22 July 2013 and Dr YF Chow took the opportunity to extend a very hearty vote of thanks to Dr Phoon Ping CHEN , Dr David CHONG , Prof Gavin JOYNT and Dr Samantha LEE for their contributions to the College.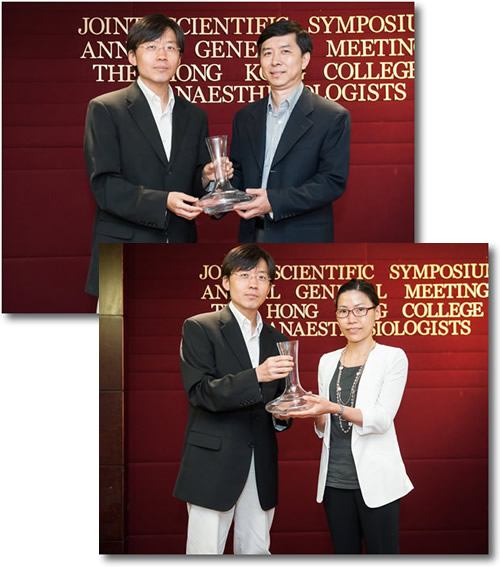 Revised College Guidelines
The College Guidelines listed below have been revised. For the other College Guidelines, they can be found here.
• P1 - College Guidelines on Monitoring in Anaesthesia
• P6 - Privileges in Anaesthesia
• P7 - Guidelines on Quality Assurance
• P8 - Duties of an Anaesthesiologist in Hospitals with Approved Training Posts
• P12 - Guidelines on the Handover of Responsibility of an Anaesthesiologist
9th Echo Hong Kong
HKCA has reserved 40 places for our members and fellows, with registration fee partly subsidized by HKCA, at 9th Echo Hong Kong (http://www.echohongkong.com) which will be held on 21-24 November 2013. The sponsored rate will be of $1,100 per head (the original early bird rate of the Echo Hong Kong is $3,600 for the full program, now with a discount of $2,500). All HKCA members and fellows are welcome to join and the application form can be downloaded here.

Annual Scientific Meeting in Anaesthesiology 2013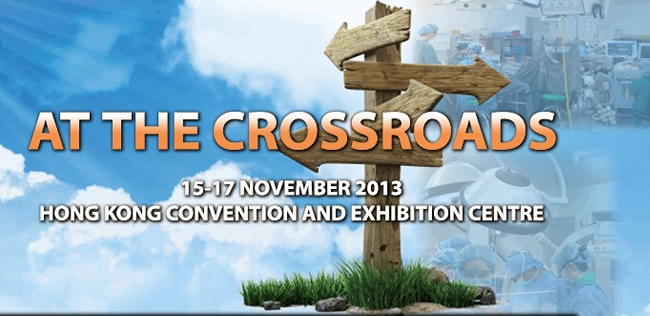 Jointly organized by the Hong Kong College of Anaesthesiologists and the Society of Anaesthetists of Hong Kong, the Annual Scientific Meeting in Anaesthesiology 2013 (ASM 2013) will be held on 16-17 November 2013 at the Hong Kong Convention and Exhibition Centre while an offsite pre-conference workshop will be held on 15 November 2013.
The theme of this year's meeting is "At the Crossroads … …". Over the years, our profession has been transforming in response to the advances in technology and the demand for improved perioperative outcomes. Every day, we are faced with numerous options from which we have to choose on behalf of our patients. We are standing at the crossroads in many aspects of our profession and it's time for us to get equipped for the future.
ASM 2013 has been one of the most important interaction platforms for the anaesthetists, intensivists and medical professionals in Hong Kong. An exhibition will also be held concurrently to show you the latest products and services offered by the Health Care Industry. More meeting information can be found at our website www.anaesthesiology.hk. Register NOW and See you at ASM 2013!

Institute of Clinical Simulation Courses
The Institute of Clinical Simulation courses scheduled for 2013 can be found here.
Certificates
The certificates of the fellows below have not been collected yet. To collect your certificate, please go to the College's Office during office hour.

FHKCA:
Chan Kai Man; Cheung Yee Nin Vivian; Li Ho Yin Adrian; Ng Nga Lai Alice; Wong Kwong Sun

FHKCA(IC):
Gomersall Charles David; Yip Kim Ho

FHKCA (Pain Medicine):
Assad Hussain; Lee Yuk Ming Sunny

DPM:
Lam Cheung Kwan Brian; Mak Ho Kwong Peter; Njo Kui Hung Anthony