Forum on "Application of First Fellows in Pain Medicine"
Board of Pain Medicine will hold a forum on "Application for First Fellows" for those fellows who are interested to become the First Fellows of this subspecialty program under the Hong Kong College of Anaesthesiologists. The details are as below.

- Date: Monday 21 May 2012
- Time: 18:30 – 21:00 (Dinner will be provided)
- Venue: James Kung Meeting Room, 2/F, HKAM Building, Aberdeen
- Registration: Please email your name to kristy@hkca.edu.hk

Application form, relevant documents regarding the Fellowship in Pain Medicine and other application details can be downloaded from the HKCA website http://www.hkca.edu.hk/Pain/index.htm
Annual Scientific Meeting in Anaesthesiology 2012, Jointly Organized by HKCA and SAHK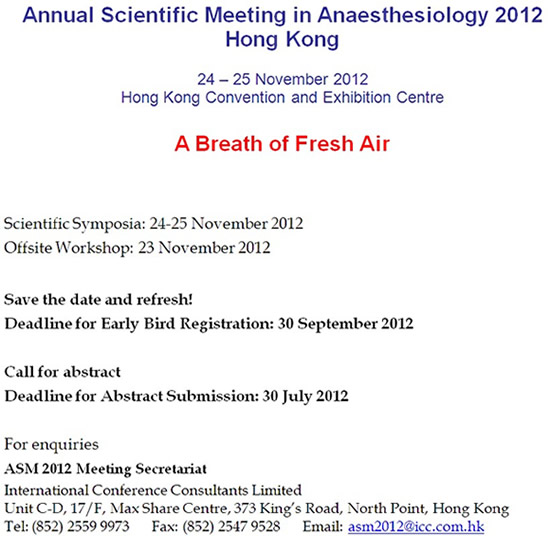 Resuscitation Council of Hong Kong (RCHK)
Dr Yu-Fat Chow, the President of the College was elected to be the Chairman of the RCHK. The Inauguration of the Resuscitation Council of Hong Kong will be held on 26 May 2012 at Hong Kong St. John Ambulance Headquarters. The RCHK is honoured to have Dr York Chow, GBS, JP to officiate the ceremony. HKCA fellows and members are invited to attend the ceremony to share the historical moment. For details of the program and registration, please click the link below.

Examiners Workshop
With the valuable experiences of Dr Craig Noonan and Dr Noel Roberts and the active participation of the examiners and SOTs, the examiners workshop was successfully held on 22 March 2012 at Prince of Wales Hospital.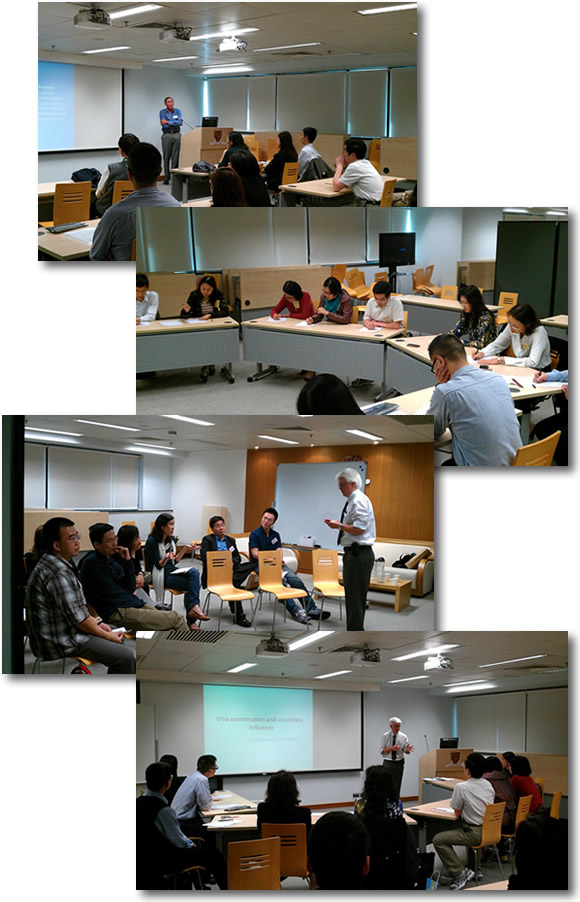 ICS Courses
For more courses available in ICS, Please click here for details or please contact ICS Manager at 2683-8307.
Certificates
The certificates of the fellows below have not been collected yet. To collect your certificate, please go to the College's Office during office hour.

FHKCA:
Cheung Yee Nin Vivian; Kwok Keen Man; Li Ho Yin Adrian; Ng Nga Lai Alice; Wong Kwong Sun

FHKCA(IC):
Gomersall Charles David; Kwok Keen Man, Yip Kim Ho

DPM:
Chu Suk Yi Annie; Lee Yee Chi; Lee Yuk Ming Sunny; Mak Ho Kwong Peter